Turkey Vote in Favor of More Authoritarianism Was Not Free or Fair, Natch
Country has been in a state of emergency since last June, while President Erdogan likened European leaders to Nazis.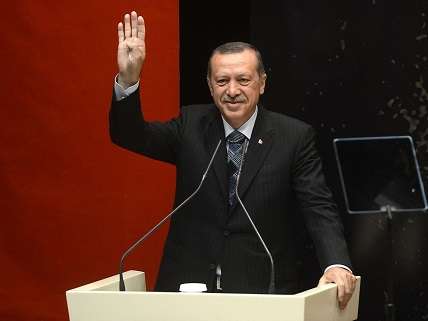 Voters in Turkey narrowly approved a constitutional referendum that will transform Turkey's parliamentary system into a presidential system—the victory for President Recep Erdogan solidifies a slide into authoritarianism he began more than a decade ago, an authoritarian slide which itself enabled the victory in the first place.
The set of reforms in the referendum legalize "the de facto executive presidency that Recep Tayyip Erdogan is already exercising," Wolfango Piccoli, co-president of Teneo Intelligence, explained in a pre-election briefing shared with Reason. "In addition, it will grant him a vast number of additional powers that currently belong to other state institutions, without introducing the necessary checks and balances required to safeguard against a further authoritarian turn."
The Turkish government is unlikely to try to begin normalizing its domestic policy despite the victory because of the slim margin. Piccoli explained such a margin furthers the risk of the repression. "Similarly, long promised and overdue structural economic reforms will most likely fail to materialize over the next 12 months as the harmonization of laws and institutions with the new executive presidency will take priority."
"A pervading climate of fear and siege mentality are now deeply instilled in Turkish society and mounting concerns about vote rigging could deepen polarization and grievances," Piccoli said.
Indeed, election monitors from the Organization for Security and Cooperation in Europe complained of an "unlevel playing field" and last minute voting rules changes.
"Voters were not provided with impartial information about key aspects of the reform, and civil society organizations were not able to participate," the OSCE said in its statement. "Under the state of emergency put in place after the July 2016 failed coup attempt, fundamental freedoms essential to a genuinely democratic process were curtailed."
For his part, Erdogan told opponents to give it up and stop "tiring themselves out" by challenging the referendum results (they did)—the Yes vote received 51.4 percent of the vote, and was pushed to victory in part by Turks voting abroad. According to state media, 63.1 percent of Turkish voters in Germany supported the referendum.
Erdogan had resorted in the past month to comparing European leaders in Germany and elsewhere to Nazis for refusing to approve Turkish government-sponsored rallies in favor of the referendum in their countries. Turkey and Germany are both NATO members, although the constitutional results will likely halt whatever's left of Turkey's process of joining the European Union.
Erdogan himself has suggested holding a referendum on whether Turkey should continue the 50-plus year process that came to a virtual stand-still shortly after accession talks officially began in 2005 when France and Austria promised to put Turkey's membership bid to a referendum vote themselves. EU officials have been warning the lack of political reforms in Turkey could cause talks to end in a "train crash" as early as 2007.
Erdogan also said President Trump called to congratulate him on his victory.