Jeff Sessions Orders Review of All Consent Decrees, Plus a Host of Other DOJ Activities
DOJ also asked for postponement of Baltimore consent decree hearing.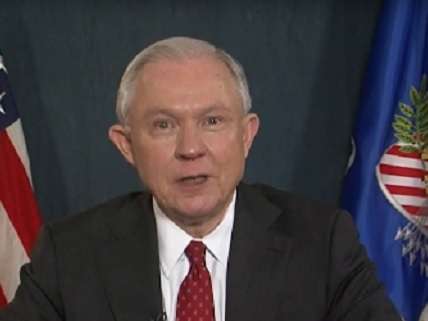 In a memo issued Friday and released yesterday, Attorney General Jeff Sessions ordered an immediate review of a wide range of Department of Justice (DOJ) activities that involve the department cooperating or otherwise partnering with local law enforcement, including "collaborative investigations and prosecutions, grant making, technical assistance and training, compliance reviews, existing or contemplated consent decrees, and task force participation."
Sessions writes that the purpose of the review is to "ensure that they fully and effectively promote the principles" Sessions says should be at the core of the Department of Justice. He lists eight principles in the memo—just one of them, the third, is relevant to constitutional concerns. "Local law enforcement must protect and repsect the civil rights of all members of the public," Sessions writes. The two principles preceding that point were that public safety was the "paramount concern and duty of law enforcement officials" and that the DOJ should "help promote officer safety, officer morale, and public respect for their work."
Other principles Sessions mentions, and which he expects the Department-wide review to check for, are "local control and local accountability," that the "misdeeds of individual bad actors should not impugn or undermine the legitimate and honorable work that law enforcement officers and agencies perform," that crime data collection and analysis were "essential for effective law enforcement strategies," that recruitment and training should "focus on making law enforcement a rewarding career," and that local-federal collaboration was "important" and that jurisdictions that accepted DOJ money were "expected to adhere to the department's grant conditions as well as to all federal laws."
Very little in these principles, which Sessions said in his memo advanced the goals he says they're supposed to, which are "to effectively promote a peaceful and lawful society, where the civil rights of all persons are valued and protected." Only one of the principles has anything to do with civil rights, suggesting Sessions is taking the approach common on the right, and left, that protecting civil rights actually means fighting crimes (or seizing guns) because civil rights actually mean public safety. It's a silly argument that nevertheless is attractive to the wide swath of the American population that does not have a clear understanding of constitutional rights or what it means to live in a free society. It's a condition that leads to arguments like "my right not to be shot trumps the right to bear arms" or "criminals don't have rights."
While Sessions insists his memo shouldn't be "be construed to delay or impede any pending criminal or national security investigation or program," the department has already asked for a 90-day postponement of a hearing on a proposed consent decree between the DOJ and the Baltimore police department so that it could "review and assess" the proposal. Baltimore's mayor says the city will officially oppose the DOJ's request for a postponement. Chicago leaders say, somewhat incredulously, that they'll continue to work on police reform no matter what the DOJ says. "Chicago has been, is, and always will be committed to reform," Mayor Rahm Emanuel and the police chief, Eddie Johnson, wrote in a statement released yesterday—the lofty rhetoric is not matched by actual actions. There's no evidence Chicago has been or is continued to reform, only that it's political leaders understand how to use reform rhetoric for their own interests. Sessions has also previously criticized the DOJ reports on Ferguson and Baltimore as being "anecdotal" despite admitting he hadn't actually read the reports (which should not take more than a couple of hours to get through).
Sessions' memo and its focus on officer safety fits in with the campaign promises Donald Trump made while running for president. At his inauguration, Trump vowed to end the "dangerous anti-police atmosphere" in the country. The idea that increased and sustained interest in police reform and reducing police violence creates an "anti-police" atmosphere is deeply misleading. In 2016, 64 police officers were shot and killed around the country, an increase over the 51 killed in 2015, but less than the 68 killed in 2011 and the 67 killed in 2007, according to the National Law Enforcement Memorial Fund. The deaths in 2007 and 2011 were not similarly politicized because the cause of police reform was not particularly a national issue, so there was no incentive to do so. Now there is, but the numbers are miniscule given the more than 750,000 law enforcement officers working around the country, and the year-to-year differences are mostly statistical noise. 2013 saw just 31 law enforcement officers shot and killed in the line of duty, the fewest killed by gunfire since 1880, and half the number of those killed in 2011 despite no discernable policy changes in those two years that the drop could've been attributed to.
While the DOJ under the Obama administration had a somewhat faster pace of opening investigations into police departments, such investigations have taken place since the 1990s, when they became the law. The Civil Rights Division of the DOJ has 14 consent decrees it is currently enforcing, and 5 other agreements with local law enforcement. Between 1994, the year such investigations started, and 2008, the DOJ concluded 20 reform agreements—the Clinton DOJ had previously opened 5 investigations that led to such agreements and the Bush DOJ 10. The Trump administration inherited 19 agreements, and 3 open investigations—Baltimore, Chicago, and the Orange County, California, Sheriff's Department and District Attorney's office.
Between 1994 and 2008 the DOJ entered into 20 reform agreements as a result of a pattern-or-practice investigation. The Clinton administration DOJ opened 5 investigations that resulted in reform agreements, and the Bush administration 10. The Obama DOJ is handing over at least three open investigations (including that of the Orange County Sheriff's Department and District Attorney's Office) to the incoming Trump administration, plus the 19 agreements currently in enforcement. Sessions' hesitance to commit to continuing a 20-year-long federal practice that has helped induce reforms at local police departments highlights the importance of police reform as an issue in local politics, where in recent years it has been used to some effect by politicians as a rhetorical tool but has not been a sustained policy concern.