Cop Who Shot and Killed Ramarley Graham Resigns After Finding Out He Was Probably Getting Fired
Five years after the shooting.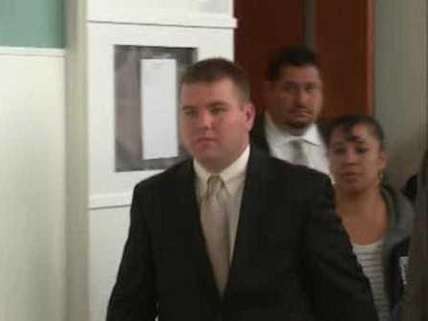 The New York police officer who shot and killed Ramarley Graham in his grandmother's house after following the 18-year-old from a bodega after an alleged marijuana sale has resigned from his job after finding out that an administrative trial judge had recommended he be fired, ABC 7 reports.
Officer Richard Haste's resignation comes five years after the shooting. A grand jury indicted him, but a judge threw the indictment out after ruling that prosecutors should have told the grand jury that other officers told Haste that Graham had a gun (they did, but Graham did not have a gun). A second grand jury declined to indict.
Haste went on "administrative trial," which ends with a recommendation from a judge for disciplinary action and can be overturned by the police commissioner. While the trial was open to the public, the NYPD rejected a freedom of information request for records of the trial, insisting those were protected by a state privacy law the city recently decided applied to the disciplinary records of cops. The police commissioner, James O'Neill, promised to waive the privacy protections the department imposed on records to at least inform the Graham family, with whom the city settled a federal lawsuit for $3.9 million in 2015. Last year, the U.S. Attorney for the Southern District of New York (then Preet Bharara) announced federal prosecutors would not pursue federal criminal charges because of "insufficient evidence."
Graham's mother released a statement responding to Haste's resignation, calling it "just another example that the de Blasio administration doesn't care about justice and accountability" and accusing Mayor Bill de Blasio and the NYPD of having "dragged their heels" every step of the way. "Richard Haste should have been in prison," the mother said in her statement, "but instead of even firing him, the de Blasio administration let him resign."
For his part, De Blasio insisted the administrative trial ended with the right decision. "Nothing can take away the profound pain left after his loss," de Blasio said according to ABC 7, " but I hope the conclusion of this difficult process brings some measure of justice to those who loved him." De Blasio's statement, and his inaction in this case, are typical of de Blasio's general approach to the issue of police brutality, appropriating the language of reform for his rhetoric but defending the status quo in which police brutality thrives.
In the five years since Haste's shooting of Graham (police said Graham was running away from them but retracted the statement after surveillance video was released, Haste said he feared for his life and cops said they saw a gun but no weapon was recovered where Graham was shot and killed nor in the area), Haste was on "desk duty," accumulating a salary $30,000 higher than it was before the shooting. Resignation will likely protect his pension. The privileges and protections afforded police employment via state and federal laws as well as by contracts that are negotiated between public sector unions and the city governments that often support and enable them guarantees outrages like this will keep happening.