Employee Who Leaked NYPD Killer Cop's Disciplinary Record Already Out of a Job
The city stopped releasing such records recently after deciding to interpret a state privacy law differently.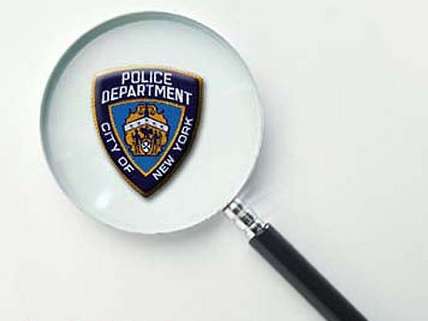 The employee at the Civilian Complaint Review Board (CCRB) who leaked the disciplinary record of Daniel Pantaleo, the New York City officer who put Eric Garner in a fatal chokehold while trying to arrest him for allegedly selling loose, untaxed, cigarettes, is no longer employed at the CCRB, Politico reports. According to Politico the "low-level employee" was "pressured to quit."
Commissioner James O'Neill said the leak was determined to be illegal, so there "had to be some consequences," although he said he hadn't talked to the CCRB chair about the incident yet. O'Neill has separately said he supports the city releasing disciplinary records. The city did so for decades upon request, until Mayor Bill de Blasio (D), who attached himself to the police reform protests that burgeoned early in his time in office, decided that such releases violated a state privacy law that's been stretched over the decades in large part due to union advocacy to cover all kinds of records it wasn't originally intended to cover.
The CCRB itself appeared to take the more hard-line stance on the leaker in its mist, even as O'Neill has been non-committal so far about criminal consequences. In a statement about the internal investigation, the board's secretary, Jerika Richardson, said the board "would work with the relevant law enforcement authorities" when appropriate and that criminal prosecution was possible because of the CCRB's "zero tolerance policy for unlawful, criminal behavior."
New York City Councilman Brad Lander (D-39) told Politico there was a "cruel irony" to the leak being "resolved in one day" when "Garner's family is waiting years for Officer Pantaleo to be held accountable in any way, while stressing it was "not acceptable" for city employees to leak confidential information. Yet the work of the CCRB, a "civilian" board, should not be considered confidential to begin with, particularly if it finds allegations substantiated, as it did on seven occasions with Pantaleo. And the "cruel irony" is entirely man-made. De Blasio decided to overturn decades of city practice by interpreting the state privacy law in the way that the police unions wanted. The extensive protections Pantaleo, and other officers involved in fatal incidents, enjoys also come from internal political decisions.
Politicians like Lerner and De Blasio attached themselves to calls for police reform, but engage the issue as if they were outsiders and not the leaders of political institutions that have to power to change policies and priorities. After the death of Garner, and a series of other publicized police brutality incidents in New York City, de Blasio resisted calls to pull back on broken windows policing and aggressive enforcement of the kinds of petty laws that ensnare victims like Garner. "The law is the law," de Blasio said at a press conference where the then-police police commissioner, Bill Bratton, said correcting your behavior for police was what democracy was all about. De Blasio's tautological belief that "the law is the law" hasn't stopped him from insisting New York was a "sanctuary city," even though in that case, too, he refuses to pull back on aggressive enforcement of petty laws in order to less expose New York City residents in the country illegally to the risk of deportation.