Chicago Bleeds Population for Second Year in a Row
Time to call it a trend?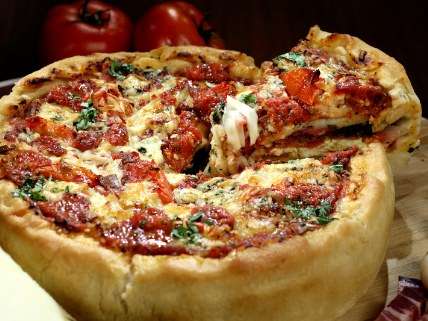 For a second year in a row, the metropolitan Chicago area lost more residents than it gained. Not only that, the losses are increasing.
Those are the latest figures released from the U.S. Census. The greater Chicago area (not just the city, to be clear) lost 19,570 in 2016. The area saw a net loss of 11,324 people the previous year. Chicago is the only metropolis among the top 10 cities in America to lose population.
Given the massive dysfunction of the operations of the City of Chicago, it's easy to find something to blame or explain the losses that fits your pre-existing political attitudes and be absolutely correct. It's got serious violent crime problems and serious police abuse issues. Chicago and the state of Illinois force massive tax burdens onto its citizens and then direct that money both to powerful union and private sector crony interests. All of these various reasons have been blamed by citizens heading elsewhere. The Chicago Tribune has been asking them:
By most estimates, the Chicago area's population will continue to decline in the coming years. Over the past year, the Tribune surveyed dozens of former residents who've packed up in recent years and they cited a variety of reasons: high taxes, the state budget stalemate, crime, the unemployment rate and weather. Census data released Thursday suggests the root of the problem is in the city of Chicago and Cook County: The county in 2016 had the largest loss of any county nationwide, losing 21,324 residents.

Experts say the pattern goes beyond just the Chicago region. For the third consecutive year, Illinois lost more residents than any other state in 2016, losing 37,508 people, according to U.S. census data released in December.
Last year, a specialized study on the migration habits of wealthy people worldwide noted that Chicago was a massive outlier among American cities in that it was losing rich people. The report predicted that a notable outward migration of millionaires is a canary-in-a-coal-mine warning that others will soon follow suit. That seems to be the case now. The new report indicates that close to half of the people who left Cook County last year—more than 9,000 of them—were African American. Of course, some of those African-American folks are probably wealthy, too, but it's also very clear that these are people looking for economic opportunities that they aren't able to find in Cook County.
Another interesting detail gleaned from the report: Immigration to America declined, even in major cities, over the last decade. But most of these cities continued to grow due to population increases among native residents. That didn't happen to Chicago.
Reason has written extensively about Chicago's many problems, from its inability to rein in police misconduct, its inability to manage its public employee pensions in an economically sound fashion, its inability to stand up to teachers' unions demands even as they bankrupt the school system, even its tendency to cheat its citizens with corrupt, crony-driven red-light camera systems and revenue-driven plastic bag taxes. We have a special tag for stories about Chicago's municipal operations, and it's not to highlight how great they are. Read more Chicago-based Reason writing here.