Scott Gottlieb: Trump's Nominee for Food and Drug Administration Commissioner
Understands how over-regulation is slowing down innovation in medicines and foods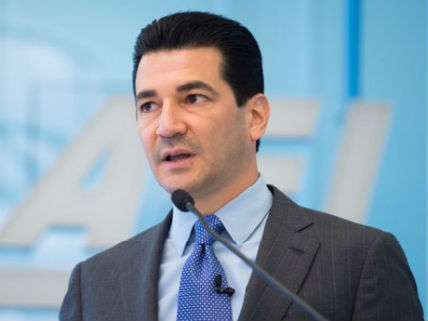 Products regulated by the Food and Drug Administration (FDA) account for about 20 cents of every dollar of annual spending by U.S. consumers, amounting to more than $2.4 trillion in annual consumption that includes medical products, food and tobacco. The agency regulates medicines, diagnostic tests, medical devices, food safety including those made from modern biotech crops and livestock, food labeling, and tobacco and nicotine products. What the agency's bureaucrats decide has signifcant impact on U.S. economic growth and the livelihoods of Americans.
President Donald Trump has nominated physician and American Enterprise Institute scholar Scott Gottlieb to become commissioner of the agency. Gottlieb earlier served as deputy commissioner during the Bush administration. Gottlieb has long been a critic of FDA's increasingly risk-averse culture that is slowing down the approval of new medicines. Defenders of the agency often cite data suggesting that the agency approves new medicines faster than other drug approval agencies abroad. That is true if only the period of time after a drug maker has submitted its New Drug Application (NDA) for approval is taken into account. More consequentially, increasing FDA requirements for longer and more extensive clinical trials before the NDA is submitted has substantially lengthened the periods and raised the costs of getting new treatments from petri dishes to patients' bedsides.
Consider that researchers at the Tufts University Center for the Study of Drug Development have estimated that in 1991 it cost $412 million (2013 dollars) to develop and obtain approval for a new pharmaceutical. Last year, they calculated that it now takes more than $2.5 billion, a six-fold increase.
Gottlieb, who has been associated with venture capital side of medical innovation, will seek to change the agency's culture from the current highly precautionary approach to one that more readily recognizes that benefits always come with risks. Under his direction, the agency would likely exercise a lighter regulatory hand over the development of new medical apps and diagnostics while seeking to work out the best way to speed up the approval of novel therapeutics based on stem cells and gene-edting technologies like CRISPR.
Gottlieb is keen to get generic drugs approved quickly in order to bring down prices for consumers. In an August 2016 op-ed in the Wall Street Journal, he noted it now takes more than 2 years for the agency to approve a generic drug application and that the costs had risen from $1 million in 2003 to over $15 million now. He added, "This means that a drug may not face brisk generic competition until it exceeds $25 million in annual revenue. Thanks to these changes, infrequently used generics—such as clomipramine for major depression—may now have only one competitor and cost as much as branded drugs." Gottlieb also cited research that estimated the FDA's proposed generic labeling rule would expose generic drug manufacturers, who supply 84 percent of all prescriptions, to failure-to-warn product liability lawsuits, costing more than $5 billion in 2017. That rule is supposed to be finalized in April. As commissioner, Gottlieb might be able to halt it.
While not a radical reformer, Gottlieb clearly has a good understanding of how over-regulation has been slowing down innovation in medicines and foods.