Turkey President Erdogan: 'Nazism is Alive in the West' Because Netherlands, Germany Not Allowing Pro-Erdogan Rallies
Protesters clash with police in the Netherlands as Geert Wilders takes advantage ahead of Dutch elections this week.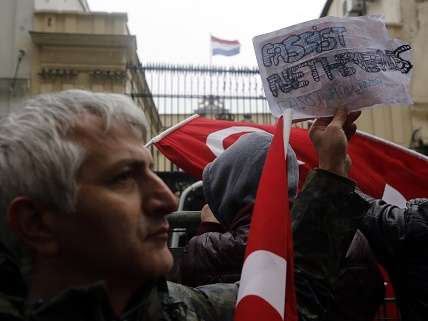 Turkey's increasingly authoritarian government is holding a constitutional referendum that would, among other changes, grant the president, currently Recep Erdogan, who previously served for 11 years as prime minister, more powers by abolishing the office of the prime minister and ending parliamentary oversight. Erdogan's ruling Justice and Development (AK) party supports the referendum, and the president, prime ministers, and other government officials have campaigned in its favor. The referendum follows a purge that saw more than 90,000 people detained, 45,000 arrested, and 132,000 fired, as well as the closing of nearly 150 media outlets between last July and this February.
In support of the referendum, the Turkish government is trying to mobilize the 4.6 million citizens living in Europe to vote in favor of the constitutional changes. While rallies were allowed in France, the German and Dutch governments have declined to permit the pro-Erdogan rallies, citing various security concerns and concerns about the anti-democratic nature of the referendum proposals.
The Dutch government prohibited Turkish ministers from speaking at a pro-referendum rally, saying it "could not cooperate in the public political campaigning of Turkish ministers in the Netherlands"—authorities denied the foreign minister, Mevlut Cavusoglu, entry into the country and escorted the family and social policies minister, Fatma Kaya, to the German border. At the border, Kaya called her expulsion a "fascist practice" and said "such a treatment against a woman minister cannot be accepted."
"Germany, you have no relation whatsoever to democracy and you should know that your current actions are no different to those of the Nazi period," Erdogan said at a rally in Istanbul last week, Reuters reported. Over the weekend, Erdogan described the Netherlands as a "banana republic," called for international sanctions to be imposed on it, and accused it of Islamophobia. "I have said that I had thought that Nazism was over, but I was wrong," Erdogan said. "Nazism is alive in the West."
On Sunday, demonstrators threw bottles and stones at police outside the Turkish consulate in the Dutch city of Rotterdamand police used dogs and water cannons to disperse the group, NBC News reported, also noting that the government was expected to "lose heavily to the anti-Islam party of Geert Wilders" in elections Wednesday. Wilders showed up at a Turkish protest with a banner last week that read "Stay away! This is our country."
Anti-immigration Rep. Steve King (R-Iowa) tweeted in support of Wilders this weekend, saying the Dutch politician understood that "culture and demographics are our destiny. We can't restore our civilization with somebody else's babies." The comments elicited a backlash on social media for "openly peddling white nationalism," as the BBC reported.
Wilders' Party for Freedom has been polling well against the ruling People's Party for Freedom and Democracy, but the race has tightened, with Wilders' party polling 13 percent to the ruling party's 16 percent. The ruling party is now projected to win 25 of 150 seats—it currently holds 40. Wilders is unlikely to become prime minister because few other parties are willing to enter into a governing coalition with his, so the election is set to produce an unstable coalition.