White House Expects 'Greater Enforcement' Against States That Legalized Recreational Marijuana
White House Press Secretary Sean Spicer says the feds' mostly hands-off approach to states that have legalized recreational marijuana may be coming to an end.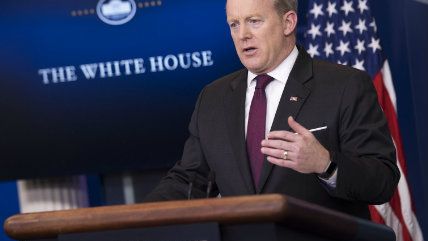 (KEVIN DIETSCH/UPI/Newscom)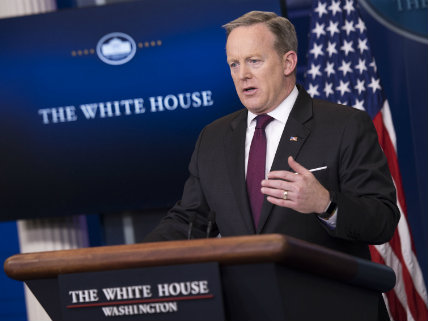 White House press secretary Sean Spicer said Thursday that he expects to see "greater enforcement" of federal drug laws under President Trump's Justice Department in states that have legalized recreational marijuana.
During a White House press briefing, Spicer was asked what the Trump administration's policy would be on states that have legalized marijuana, placing them in conflict with federal law, where marijuana remains a Schedule I drug. Under President Obama, the Justice Department issued a memo in 2013 instructing U.S. Attorneys to take a mostly hands-off approach to recreational and medical marijuana in states that had legalized it.
"Well I think that's a question for the Department of Justice," Spicer replied. "I do believe you'll see greater enforcement of it. Because again there's a big difference between the medical use … that's very different than the recreational use, which is something the Department of Justice will be further looking into."
Spicer referenced opioid abuse and addiction while talking about the administration's opposition to recreational marijuana.
"There's two distinct issues here: medical marijuana and recreational marijuana," Spicer also said. "Medical marijuana, I've said before the president understands the pain and suffering many people go through who are facing terminal diseases, and the comfort that some of these drugs, including medical marijuana, can give to them. That's something that Congress in 2011 put in an appropriations bill, saying the Department of Justice wouldn't be funded to go after those folks. There's a big difference between that and recreational marijuana, and I think when you see something like the opioid addiction crisis blossoming in so many states around this country, the last thing we should be doing is encouraging people. There is still a federal law that we need to abide by when it comes to recreational marijuana."
Marijuana legalization advocates condemned the the comments, which appear to backtrack from Trump's statements on the campaign trail that marijuana legalization was a state issue.
"If the administration is looking for ways to become less popular, cracking down on voter-approved marijuana laws would be a great way to do it," Tom Angell, the chairman of Marijuana Majority, said in a statement. "On the campaign trail, President Trump clearly and repeatedly pledged that he would leave decisions on cannabis policy to the states. With a clear and growing majority of the country now supporting legalization, reneging on his promises would be a political disaster and huge distraction from the rest of the president's agenda."
The Justice Department declined to comment.