CPAC Opens and Boots Spencer, Trump Vs. Mexico (Some More), DOJ May Target States That Legalized Pot: P.M. Links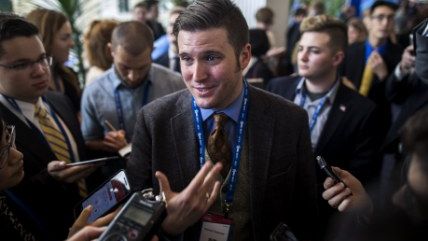 (Jim Lo Scalzo/EPA/Newscom)
Jim Lo Scalzo/EPA/Newscom

The Conservative Political Action Conference (CPAC) has begun! Scroll down to read coverage from Reason writers in attendance. Alt-right leader Richard Spencer was ejected from attending CPAC. The executive director of CPAC called Spencer and his nationalist movement a "left-wing fascist group."

At a press conference today, White House spokesman Sean Spicer said the Department of Justice may engage in enforcement of the federal ban against marijuana in states that have legalized recreational use.
If the feud between President Donald Trump and the leadership of Mexico prompts Mexican officials to consider legalizing drugs south of the border, what exactly should we make of that outcome?
Department of Homeland Security head John Kelley told Mexican officials Thursday there would not be any "mass deportations" under Trump.
The Trump administration may have rescinded the letters from President Barack Obama's administration calling for public schools to accommodate transgender students in bathrooms and other facilities, but the transgender teen behind a case to be heard by the Supreme Court in March is going to continue pressing on.
Somebody in Indiana is holding a winning $435 million Powerball lottery ticket.
After nearly five years, the City of San Bernardino, California, may finally navigate its way out of bankruptcy.
Follow us on Facebook and Twitter, and don't forget to sign up for Reason's daily updates for more content.