Transgender School Bathroom Battle About to Get Even More Complicated (UPDATED)
Trump to withdraw Obama administration's guidance, but that doesn't actually stop case moving forward.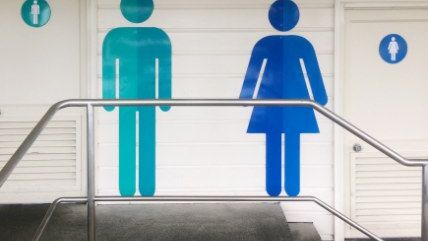 (Rafael Ben-Ari/Chameleons Eye/Newscom)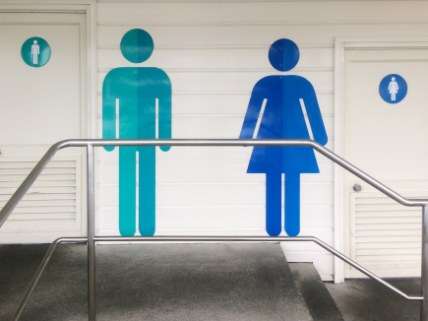 President Donald Trump's administration is expected to formally announce (possibly today) that it is withdrawing the legal guidance distributed to public schools by both the Department of Justice and Department of Education that they are obligated under federal civil rights and education laws to accommodate transgender students in restroom, locker room, and other sex-segregated facilities.
Assuming this is true (and Press Secretary Sean Spicer said so in a presser, so there's no reason to believe otherwise) it complicates this legal battle, but to be clear, it doesn't end it. There's some lazy headlines suggesting that the administration is "withdrawing protections" for transgender students, but there's a Supreme Court case in play right now and other court rulings pro and con. Withdrawing the Obama administration's guidance should not be taken to mean that even this one battle has ended.
While it is true that the Obama administration has attempted to use executive authorities to push transgender accommodation on all public schools, the idea behind it (transgender protections are included in sex discrimination protections) has precedent in legal decisions that actually go back prior to Obama's presidency. The argument is that discrimination against transgender people counts as sex discrimination on the basis of whether somebody's appearances or mannerisms match "sex stereotypes." A previous Supreme Court decision established that discrimination on the basis of these stereotypes counts as forbidden sex discrimination—you can't discriminate against a woman for being masculine or a man for being feminine. There have been a handful of court cases that have ruled in favor of such positions also applying to transgender people.
And when it comes to schools, the argument here by Obama's administration is that Title IX of the Education Amendments of 1972 also requires such a reading. That Title IX actually says nothing about transgender students is relevant. In the case being considered by the Supreme Court, the justices will consider whether a legal concept known as the Auer deference should apply. This is a principle from a Supreme Court precedent that the courts generally give government agencies deference to implement statutes or regulations as they see fit unless they are doing something that directly contradicts what the law states.
Assuming the Trump administration does revoke the Department of Justice and Department of Education's guidance to schools, this is naturally going to undercut student Gavin Grimm's case, because the federal government is no longer attempting to implement Title IX this way. But, the Supreme Court is considering more than just agency deference to interpret the law. The court will be considering whether the text of Title IX obligates public schools to accommodate transgender students. If they decide one way or another on Title IX itself, that could possibly bypass the consideration of deference to the administration.
So: It's complicated. Resist the urge to assume the case is going down. And even if it did, the Trump administration's position is that states should handle the rules, not that transgender students shouldn't be accommodated.
As for what schools should do, I'm on the record as supporting the concept that schools, as long as they're government-run and publicly funded institutions, should be required to accommodate the needs of transgender students. I am perhaps not so strict on what that looks like as perhaps some transgender activists should demand (I think this can be solved by increased body privacy in facilities), and I'm not fond of the manner by which the Obama administration attempted to just push this on school districts while it was still a focus of dispute, which certainly contributed to a cultural backlash.
Also of interest to those who were watching the partisan fights over Trump's cabinet nominations play out: According to sources talking to both The New York Times and The Washington Post, Education Secretary Betsy DeVos did not want to withdraw the guidance from the Obama administration. She wanted to keep the federal requirement to accommodate transgender students in place. Apparently Attorney General Jeff Sessions convinced Trump otherwise and left DeVos in little position but to go along. She apparently was able to get language included demanding that schools protect transgender students from bullying.
Note that Democrats went hard against DeVos and she just barely scraped by the Senate vote, thanks to opposition by education unions and also her family's history of anti-gay activism. Sessions actually faced less of a struggle (and even landed one Democratic vote from the Senate). Guess those rumors that DeVos was actually a supporter of LGBT issues, family history aside, were true.
UPDATE: Sessions and the Trump administration officially released two letters this afternoon rescinding the Obama administration's guidance that public schools must accommodate transgender students to comply with Title IX. The letter to "colleagues" noted that federal courts are split over the enforcement of the law and says:
In these circumstances, the Department of Education and the Department of Justice have decided to withdraw and rescind the above-referenced guidance documents in order to further and more completely consider the legal issues involved. The Departments thus will not rely on the views expressed within them.
A second letter sent to the Supreme Court also informed the court that it had withdrawn its guidance, and this does impact the Grimm case. The letter specifically mentions the Auer deference precedent and the fact that the Court of Appeals used this deference to find in Grimm's favor. So The Department of Justice is outright telling the Supreme Court that it is withdrawing the very administrative guidance that the appeals court deferred to in this case.
You can read the two letters here.