Milwaukee Sheriff David Clarke Whines About Being Harassed and Bullied After County Investigation Launched into His Harassment and Bullying of Citizen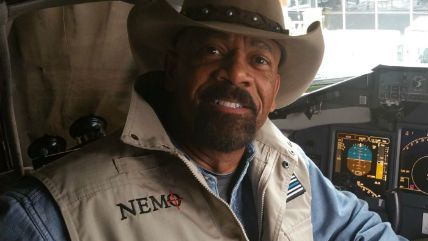 (Milwaukee County Sheriff's Office Facebook)
According to Dan Black, in an official complaint filed with Milwaukee County, Wisconsin, he was harassed and bullied by County Sheriff David Clarke after a flight from Dallas to Milwaukee on January 15. Black, 24, lives in Milwaukee.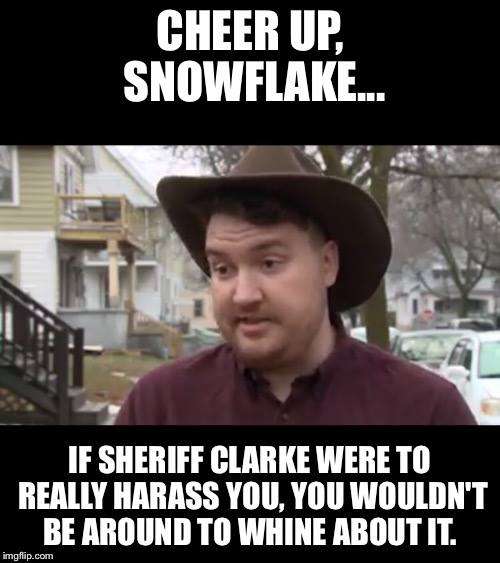 Black says that as he entered the plane, he saw Clarke but wasn't sure it was him, as he was wearing Dallas Cowboys gear and not his trademark cowboy hat. Black asked Clarke if he was indeed Clarke, and shook his head at Clarke when told the answer was yes.
Clarke asked Black if he had a problem with him, and Black again shook his head no and proceeded to his seat in back of the plane. Black claims the head-shake was not general disapproval of the controversial sheriff, but just surprise at his Cowboys fandom.
When he got off the plane in Milwaukee, "there were six uniformed deputies and two bomb/drug dogs standing there with Sheriff Clarke waiting for me to exit." He was taken to a waiting area and grilled by two deputies, Black says, about his reasons for being in Dallas and opinions about Clarke.
He was then "walked through the terminal, down through baggage claim, and all the way to my friend's car by the officers. I was not given the opportunity to use the bathroom, to stop for a coffee, or to browse the bookstore. It was clear to the deputies after their interrogation that I hadn't done anything (let alone done anything wrong), so I was confused as to why I needed to leave the airport directly."
Black says in this complaint that "Although the event did frighten me, I will not be intimidated into letting this egregious act go unreported. The deputies who interviewed me agreed, the stop was "stupid" and "ridiculous." There was absolutely no basis for this incident, and I believe I was the victim of the sheriff's abuse of power."
As reported by local ABC station WISN:
A spokeswoman for Milwaukee County Executive Chris Abele said Wednesday that the complaint from Black had been referred to the county Audit Services Division, the primary function of which is to investigate matters of fraud, waste and abuse.

Abele told WISN 12 NEWS that auditors have interviewed Black and the deputies involved in the questioning.

"Public safety is not a game. It's not a toy just to use to intimidate people who scare you or bother you," Abele said.
The sheriff's department response yesterday, via its Facebook page, was to declare the investigation:
is nothing more than an attempt to harass and bully Sheriff Clarke. This is fake news. He remains undeterred and unfazed as he has been dealing with this for more than a decade. These fake news stories from the Sentinel Journal and their dweebs at the editorial board are so transparent that the casual observer can see this for what it really is.
Clarke further insists that the Abele has no legal authority to investigate or regulate anything about his actions. And besides, "Abele supported Mrs. Bill Clinton for president and Russ Feingold for US Senate."
There you go.
Now, what could be considered "fake" about the news? Is Clarke is asserting the investigation isn't happening? No, it is, and he's complaining about it. Is he asserting that what Black claims happened never happened?
No, he's not, and indeed the department's initial response when Black's complaint made news was to tweet the physical threat that:
Next time he or anyone else pulls this stunt on a plane they may get knocked out. The Sheriff said he does not have to wait for some goof to assault him. He reserves the reasonable right to pre-empt a possible assault.
He also posted on the department's official Facebook page the image above and to the right, picturing Black.
So, Clarke's response was some bullying and harassment, the exact things he accuses Abele's office of inflicting on him.
Sheriff Clarke is clearly not of the proper temperament or respect for citizen's rights to hold his office. May he get the stinkeye on every flight he takes.
Previous Reason reporting on the bad-tempered Sheriff Clarke.