Here's Why It's Dumb to Tell a Restaurant How Much Booze it Can Sell
Virginia and other states force receipts to equal a high percentage of food sales. That's foolish.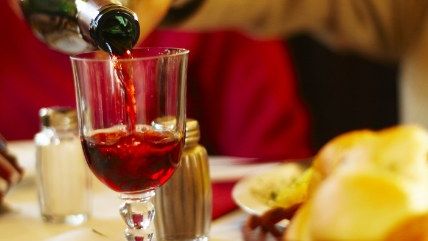 (Pavalache Stelian / Dreamstime.com)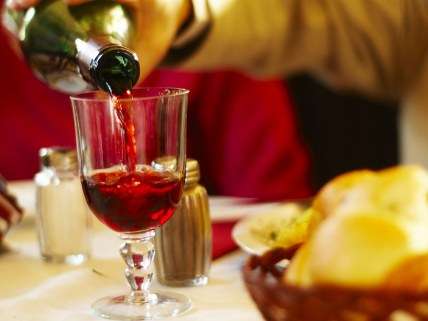 In Virginia, where Founding Father George Washington famously distilled whiskey, momentum is growing to change a decades-old Virginia law that hurts restaurateurs who opt to sell liquor in the state.
Under the law, the state requires food and nonalcoholic beverage sales at restaurants to equal at least 45 percent of their gross sales of liquor and food. Today, the state touts this ratio as "paramount." Restaurateurs argue otherwise.
As the Virginian-Pilot reported this week, the basis of the law, first established in the late 1960s and amended in 1980, is baldly prohibitionist. Lawmakers, the paper reports, "didn't want saloons propagating across the state."
The law's also protectionist.
"The ratio lives on because of a powerful group of established Richmond restaurateurs," writes attorney C. Jarrett Dieterle. "They are quick to invoke the absolute horrors of bars and nightclubs dotting every Virginia street corner, alleging that repeal of the ratio would lead to an abundance of seedy, alcohol-infused, crime-infested neighborhoods." Dieterle rightly calls that "hooey."
Add, too, to the list of hooey that the law infringes on the rights of restaurant owners, and limits choice for consumers. And it's difficult to comply with, in that it's next to impossible for a restaurateur to predict how much food or alcohol customers might want consume.
The law is also discriminatory. In part, that's because it's based on the price that a restaurant sells its food and drinks. Last year, a Virginia restaurant and craft-bourbon bar that had been penalized under the law sued the state. The suit, by McCormack's Whisky Grill and Smokehouse, argues the law discriminates against businesses that sell costly high-end liquors and favors those who sell cheap spirits—since the law is based on dollar value of sales, rather than quantity of sales.
Unsurprisingly, the law has forced some restaurants to abstain from selling higher-end drinks. Restaurants like McCormack's that skirt the law face the suspension or loss of their license.
Virginia is hardly alone in enforcing such laws. Other states, counties, and cities around the country have similar rules in place. North Carolina law requires at least 30 percent food sales. Nearly two-thirds of Kansas counties require the same. And Gainesville, Fla. requires restaurants to generate at least half of their sales from food.
Last year, Rome, Ga. lawmakers proposed eliminating the city's 50/50 requirement—though only for the city-owned convention center, rather than for privately owned establishments. Nearby Alpharetta, Ga. rules effectively don't allow bars. The city's 50 percent requirement for food and alcohol sales—which had been 60 percent until being lowered in 2011—is intended "to ensure the city had no bars, where alcohol sales were primary."
Alpharetta recently made a creative change to the 50 percent rule for restaurants, adopting a law that sales from food trucks parked in front of restaurants could contribute toward a restaurant's required food sales. That may sound nice, but the law requires restaurants "to maintain sales records from each truck and submit a monthly report."
Such onerous recordkeeping and paperwork requirements like these are a necessary feature of the abysmal ratio laws. Maryland requires the submission of regular notarized reports to a county liquor board. And in Virginia, the law requires "restaurants that sell liquor must tally their receipts each year and prove 45 percent came from food sales."
But these requirements often don't stop at paperwork. Virginia orders restaurants to provide food menu items "anytime during your operating hours" as proof of their commitment to serving food. Inspectors who visit may test this out, and will "want to see food in your freezer and other food storage facilities." And if a restaurant that sells liquor operates a buffet, "[i]t is incumbent upon the licensee, if using food from a buffet to meet the food beverage ratio, that the buffet fare is actually consumed by a customer. You must be able to document this." How to document whether a patron actually visited a buffet is left unsaid.
The fight in Virginia has moved to the legislature. A coalition of Virginia restaurateurs, dubbed Fix the Mix, is pushing to change the law.
"In general, I don't like the government telling you how much food you should order or restaurants how much food they should sell," says state delegate Scott Taylor, who's pushing to change the law. "It's an unfair burden on these small businesses." Others in states with similar laws agree.
"Just imagine if any other industry operated this way; mandating a taxi driver must have 35% of their business come from airport pickups, or mandating a coffee/tea shop must have 40% of their revenue coming from tea sales or risk shutting down," says Greg Pulscher, who produces the Free to Brew podcast in North Carolina, in an email to me this week.
Rules that require bars or restaurants to tie alcohol sales to some magical percentage of food sales are stupid, outdated, or some combination of both. Such personal decisions are best left up to businesses and consumers alone.