Students Arrested for Passing Out Pocket Constitutions on Michigan Community College Campus Sue School
Young Americans for Liberty (YAL) members are fighting back after being charged with trespassing for handing out constitutions without permission.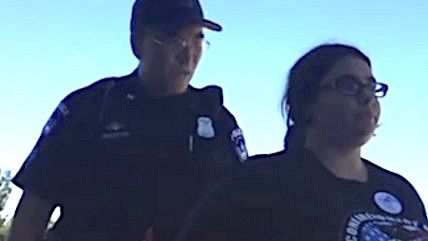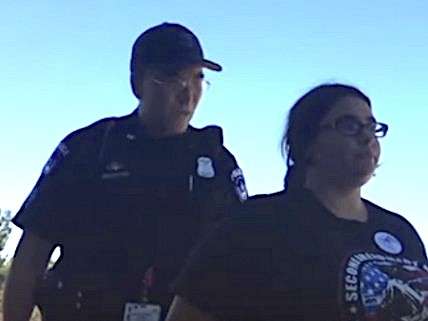 Two members of Young Americans for Liberty's (YAL) Kellogg Community College (KCC) chapter have filed suit against the Michigan school following their arrest on campus last September for passing out pocket-sized copies of the U.S. Constitution without administrative permission.
Michelle Gregoire (a student at KCC) and Brandon Withers, along with KCC's YAL chapter are suing the school, its Board of Trustees, and several high-ranking administrators for violating the students' "clearly established constitutional rights" when they were charged with trespassing and jailed for seven hours (the charges which were dismissed 10 days later, according to Watchdog.org).
The plaintiffs claim the school violated their rights of freedom of speech, due process, and equal protection under the law, and as a public institution, KCC is bound by the First Amendment.
Before having campus police place them under arrest, school administrators insisted Gregoire and Withers were in violation of the school's solicitation policy because they had not received prior approval to recruit for their organization, which the students claimed they had repeatedly attempted to obtain through official channels to no avail.
Watch video of their arrest below, where Gregoire is warned to not return to campus without permission, even though she attends the school:
The lawsuit alleges, "By policy and practice, Kellogg Community College claims the unchecked right to prohibit students from engaging in practically any constitutionally protected expression anywhere on campus unless they first obtain permission from KCC officials," adding:
Thus, students may not speak spontaneously anywhere on campus. Furthermore, KCC maintains an unwritten speech zone policy limiting student expression to one location on campus. If students express themselves on campus without a permit or in any other location, KCC deems them to be violating the Code of Conduct for Students, which exposes them to a variety of sanctions, including expulsion. Through the permitting process, KCC retains unfettered discretion to determine both whether students may speak at all and where they may speak. In so doing, it fails to protect students against content and viewpoint discrimination. These policies and practices chill protected student speech and disable spontaneous student speech on campus.
Also according to the lawsuit, the school confines free speech activities to an information tables at the school's student center, which you guessed it, can only be used with the official permission of the administration.
KCC's Public Information Director shared this statement with Reason:
Kellogg Community College learned this week that an organization, the Alliance Defending Freedom, has announced it is filing a federal complaint against the College regarding a trespassing incident which occurred in September 2016. The complaint itself has yet to be delivered to KCC; therefore, the details of the complaint have yet to be reviewed by legal counsel. The College, which supports the U.S. Constitution and takes seriously any allegation that one's freedom of expression has been violated, will address this matter thoroughly.
On the advice of their attorneys, Gregoire and Withers declined to speak with Reason, but YAL President Cliff Maloney, Jr. said in a phone call his group has launched a national "Fight for Free Speech" campaign, which he describes as a "coordinated effort to tackle and defeat these so-called free speech zones and unconstitutional policies."
Maloney adds that these students did not expect to be arrested and that wasn't the purpose of their activity, saying "If [students] are facing pushback from tyrants on campus, we ask them to film it, to capture it, so we can document it," but YAL never aims to make free speech martyrs out of students. In this particular case, Maloney says he was struck by how calm the students were while being arrested in contrast to the administrator hectoring them as the handcuffs were being applied.
"Calmly and peacefully [the students] said, 'We're going to do this. It is our right to hand out the United States Constitution," Maloney says. "We don't set out to get people arrested, but to see the extremity of it, I think helps us shine a light on how crazy these bureaucrats have become."