Read How Chicago Police Routinely Violated Civil Rights and Covered It Up
The Justice Department's scathing report finds a pattern of unconstitutional force, retaliation, and a code of silence.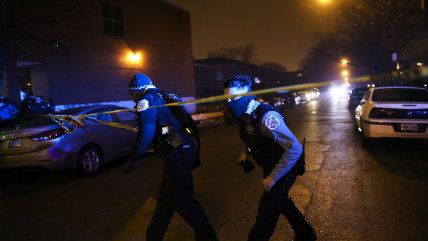 (Armando L. Sanchez/TNS/Newscom)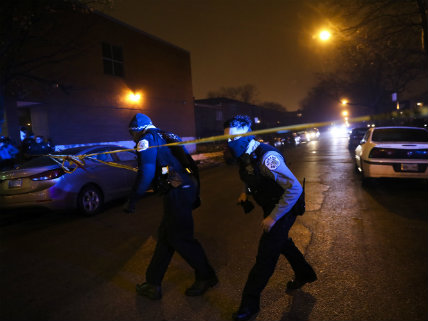 Chicago police engaged in a pattern and practice of violating the civil rights of black and Latino citizens, used unconstitutional force, and failed to properly investigate officer misconduct, according to the results of a long-awaited investigation released Friday by the Justice Department.
The wide-ranging 164-page report—the result of an investigation launched by the Justice Department's Civil Rights Division in 2015 in the aftermath of the Laquan McDonald shooting—found Chicago police routinely used poor police tactics that resulted in unnecessary and unconstitutional lethal force. Furthermore, the report found the department's storied "code of silence" and poor internal protocols led to police misconduct not being properly investigated. In other cases, officers retaliated against witnesses to keep them from reporting misconduct.
"One of my highest priorities as Attorney General has been to ensure that every American enjoys police protection that is lawful, responsive, and transparent," Attorney General Loretta Lynch said in a statement Friday. "Sadly, our thorough investigation into the Chicago Police Department found that far too many residents of this proud city have not received that kind of policing. The resulting deficit in trust and accountability is not just bad for residents—it's also bad for dedicated police officers trying to do their jobs safely and effectively. With this announcement, we are laying the groundwork for the difficult but necessary work of building a stronger, safer, and more united Chicago for all who call it home."
The report found "numerous instances" where police officers shot people who were fleeing and posed no threat:
In one case, a man had been walking down a residential street with a friend when officers drove up, shined a light on him, and ordered him to freeze, because he had been fidgeting with his waistband. The man ran. Three officers gave chase and began shooting as they ran. In total, the officers fired 45 rounds, including 28 rifle rounds, toward the man. Several rounds struck the man, killing him. The officers claimed the man fired at them during the pursuit. Officers found 26 no gun on the man. However, officers reported recovering a handgun nearly one block away. The gun recovered in the vicinity, however, was later determined to be fully-loaded and inoperable, and forensic testing determined there was no gunshot residue on the man's hands.
The Chicago Independent Police Review Authority found the officers' actions were justified.
Chicago police also used non-lethal force with abandon, including tasing children for non-criminal conduct or minor violations:
In one incident, officers hit a 16-year-old girl with a baton and then Tasered her after she was asked to leave the school for having a cell phone in violation of school rules. Officers were called in to arrest her for trespassing. Officers claimed the force was justified because she flailed her arms when they tried to arrest her, with no adequate explanation for how such flailing met the criteria for use of a Taser. This was not an isolated incident. We also reviewed incidents in which officers unnecessarily drive-stunned students to break up fights, including one use of a Taser in drive-stun mode against a 14-year-old girl. There was no indication in these files that these students' conduct warranted use of the Taser instead of a less serious application of force.
The report found that the department often does not investigate firearm and taser discharges where no one is hit. In the cases it does investigate, the probes "suffer from serious investigative flaws that obstruct objective fact finding."
"Civilian and officer witnesses, and even the accused officers, are frequently not interviewed during an investigation," the report says. "The potential for inappropriate coordination of testimony, risk of collusion, and witness coaching during interviews is built into the system, occurs routinely, and is not considered by investigators in evaluating the case."
In addition to poor investigative techniques is the Chicago Police Department's "code of silence," in which officers refuse to speak out against fellow officers or lie to protect them. The Justice Department found that "a code of silence exists, and officers and community members know it."
This code is apparently strong enough to incite officers to lie even when they have little to lose by telling the truth. In one such instance, an officer opted to lie and risk his career when he accidentally discharged his pepper spray while dining in a restaurant—a violation that otherwise merits minor discipline. Even more telling are the many examples where officers who simply witness misconduct and face no discipline by telling the truth choose instead to risk their careers to lie for another officer. We similarly found instances of supervisors lying to prevent IPRA from even investigating misconduct, such as the case discussed elsewhere in this Report in which a lieutenant provided a video to IPRA but recommended that the case be handled with nondisciplinary intervention rather than investigated, describing the video as only depicting the use of "foul language" and affirmatively denying that it contained any inflammatory language or that the victim made any complaints — both patently false statements as demonstrated by the video.
Worse than the code of silence among officers, however, is the apparent widespread use of intimidation and retaliation to silence witnesses of police misconduct:
We heard from numerous advocates and individual victims of police abuse that officers who engaged in force against a civilian routinely file baseless police assault and battery charges against the victim and other witnesses to the misconduct. In 2006, a patron in a restaurant claimed that after being beaten up by several off-duty officers, he and witnesses to that incident were falsely arrested for battery to cover up the incident. In another case in 2009, the City settled for $100,000 a lawsuit alleging a CPD lieutenant falsely arrested him for battery to cover up the officer's abuse of the plaintiff. In 2014, the City settled another lawsuit for $30,000 where a driver alleged an off-duty officer aimed his gun at him and then filed false battery charges to cover it up when other officers arrived on the scene.
The report found that retaliation, combined with lax internal investigations, could make it easy to sweep possible misconduct under the rug, such as in this horrifying example:
In one illustrative case in which a woman alleged that an officer had raped her, she refused to provide BIA the officer's name, and refused to sign an affidavit, telling the investigator that the officer had told her that he had "bigger power" over her and would "fuck her up" if she went to the hospital or the police. The woman alleged that the officer had also threatened her girlfriend, a possible witness to the rape. Despite providing a detailed account of the alleged rape—on two separate occasions—to the investigator, the investigator did not follow up on the results of the rape kit, did not attempt to interview a known witness, and did not canvass for witnesses at the location where the victim and the officer reportedly met. Nor does the investigator appear to have sought an affidavit override. The BIA investigator instead closed the investigation, "based on the victim's refusal to cooperate any further."
The Civil Rights Division is now scrambling to wrap up its investigations and finalize consent decrees with cities before Donald Trump is sworn in as president on Jan. 20. Trump's pick to succeed Lynch as Attorney General, Alabama Sen. Jeff Sessions, has been a stalwart defender of police and has questioned its aggressive investigations into civil rights violations by police.
In a 2015 Senate hearing, Sessions said, "There is a perception, not altogether unjustified, that this department, the Civil Rights Division, goes beyond fair and balanced treatment but has an agenda that's been a troubling issue for a number of years."