Movie Review: Patriots Day
Mark Wahlberg in a powerful tale of real-life jihadi terrorism.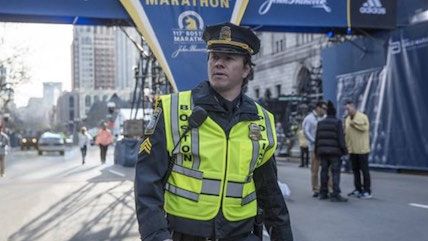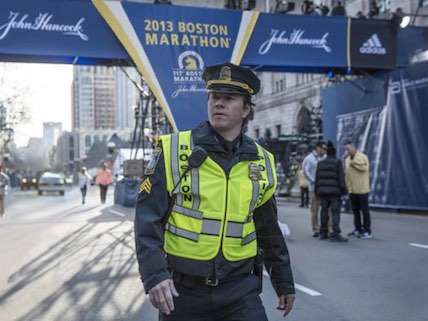 Peter Berg's Patriots Day is a true ensemble movie, marshaling the talents of many performers in the service of a multi-pronged narrative related with headlong purpose. The picture depicts the city of Boston as a community suddenly united by a surge of courage and resilience in the wake of an inexplicable horror—the Boston Marathon bombing of April 15, 2013. To his substantial credit, director Berg, in dealing with this brutal attack, delivers a tense and tightly edited police procedural that never sinks to cheap emotional manipulation of the awful event at its center.
Mark Wahlberg stars (it's his third Berg movie, following Deepwater Horizon and Lone Survivor), but unlike many of the film's other characters, who represent real-life people, his scrappy police sergeant, Tommy Saunders, is an invention—a composite character who's on hand to lead us from one key plot point to another. This might have seemed a lazy device if Boston-native Wahlberg didn't make it work with his usual skill and likeability (and if his harried cop weren't so ingratiatingly detailed—Saunders has a drinking problem, job troubles, and a bum leg to boot).
The picture begins with introductions to the characters we'll be spending the next two hours with. Apart from Tommy and his steadfast wife (Michelle Monaghan), there's a pair of affectionate newlyweds (Rachel Brosnahan and Christopher O'Shea), a veteran police sergeant (J.K. Simmons, deploying just enough of a Boston drawl to be persuasive), a sharp young Chinese entrepreneur (Jimmy O. Yang), and a pretty MIT student (Lana Condor) who has her eye on a smitten young cop (Jake Picking), who's eying her right back.
Then we meet the bombers, Chechen immigrants and longtime U.S. residents Tamerlan Tsarnaev (Themo Melikidze) and his younger brother Dzhokar (an excellent Alex Wolff). Dzhokar is watching jihadi videos on a laptop in the small apartment Tamerlan shares with his wife Katherine (Melissa Benoist)—an American who has converted to Islam—and their little daughter. The atmosphere is grim, the three grownups inscrutable, and already scary.
Berg has no interest in offering rationalizations for the Tsarnaevs, but he doesn't turn them into bloodthirsty clichés, either. Tamerlan, an aspiring boxer, is a hardcore Islamist fanatic; but UMass student Dzhokar is more complex, and puzzling: he's a 19-year-old pothead with an iPod and an interest in cool cars, but he's also a woozy, amoral murderer, building deadly pressure-cooker bombs with his brother and taking them out onto Boylston Street during the annual Boston Marathon to kill and mutilate as many onlookers as possible. (Three people lost their lives to the Tsarnaevs' twin bombs; some 260 were injured, many grievously. Afterward, Dzhokar tells his brother they should have tried to detonate their explosives at waist height in order to destroy even more lives.)
Berg stages the bombing vividly—we see the smoke, the blood, the writhing bodies—but with welcome economy: he doesn't linger on details of the carnage. He starts building tension with the arrival of an FBI contingent led by cool-headed agent Richard DesLauriers (Kevin Bacon, more than solid, as always). DesLauriers puts his squad of computer analysts right on the case analyzing an avalanche of digital footage that's being harvested from surveillance cameras and on-the-scene cellphones. Soon the techs have pried images of the Tsarnaevs out of all this imagery, and the question for DesLauriers and Police Commissioner Ed Davis (John Goodman) and Massachusetts Governor Deval Patrick (Michael Beach) becomes whether or not to release grainy photos of the two brothers to the media. When it becomes clear that the bombs were packed with shrapnel in order to cause maximum human damage, the go-ahead is quickly given.
As the movie races along, there are some terrific scenes, most memorable among them a long car-hijacking sequence that leads to a blazing shootout on a quiet residential street. As the governor shuts down the city ("That's close to martial law," Commissioner Davis vainly protests), we watch a small army of cops and soldiers and snipers closing in on the surviving Tsarnaev brother, who's hiding in a boat on a trailer in an old man's back yard. After he's seized and taken away, the story is capped by the arrival of a steely FBI interrogator (Khandi Alexander), who's been brought in to confront Tamerlan's defiant wife, a woman who in real life remains a mystery to this day.
The movie is an exciting piece of work, but it seems to me to have one substantial flaw. At the end, after all the pain and loss and heartbreak we've seen caused by the Boston bombers, we're asked to accept the proposition that the best way to fight this sort of depraved violence is with "love." It seems a little late in the ongoing age of terror to still be entertaining such a fatuous idea.