Meet Statie the Police Elf
Merry Christmas from the surveillance state!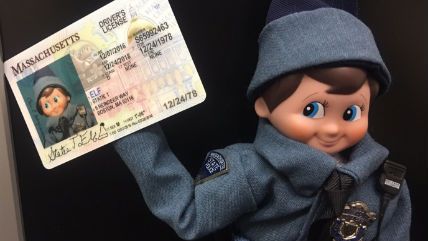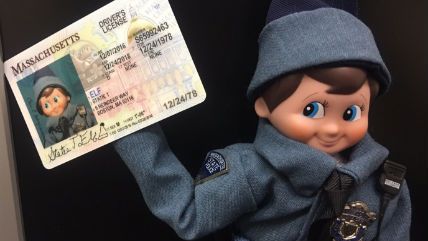 (Twitter/Dustin G. Fitch)
There's a newish fake tradition that the parents these days are into: Elf on the Shelf. Based on a 2004 book, many kids now believe that Santa sends "scout elves" to monitor naughty and nice behavior in the days leading up to Christmas. This belief is reinforced by parents moving a stuffed elf toy around the house at night to give the impression that the shelf narc is eyes-on at all times.
In case you were wondering whether this fairy tale is preparing the next generation for life in a surveillance state, we have our answer: Meet Statie the Elf. He's a cherub-faced doll dressed up in a Massachusetts State Police uniform, the brainchild of Massachusetts State Trooper Dustin Fitch. He goes on adventures around the city, as chronicled on Facebook and Twitter.
And his name is Statie. Statie!
"I just wanted to add a little holiday humor," Fitch told the Boston Globe. "I wanted to use an elf to humanize us….It shows how we are all just people, too, looking to enjoy the holidays with family and friends, like everyone else."
Because nothing is more humanizing than the notion of a stranger in a weird outfit who monitors your behavior from afar. I am not able to determine whether Statie is armed, but I personally would be terrified if this little dude stormed into my place during a no-knock raid, smiling like a mythological maniac. While I don't think he'd pose much of a threat to the family dog, kids with pet mice should certainly be concerned.
Apparently staties is an affectionate (?) term used by the locals for state police officers, but that doesn't make the elf's moniker any less horrifyingly on-the-nose.
This also raises a few vital, perhaps even more terrifying questions:
@kmanguward @LucyStag Is Krampus Kop already a thing?

— Caleb O. Brown (@cobrown) December 15, 2016
@kmanguward @LucyStag He's already doing a great job earning that outrageous pension: pic.twitter.com/DTXpP1paob

— astromarko (@astromarko) December 15, 2016
Sounds like Stasi 🙂 https://t.co/VsaDhTyor0

— Salil Tripathi (@saliltripathi) December 15, 2016
Via former Reasoner Lucy Steigerwald