Twelve States Suspended 190,000 Driver's Licenses Last Year for Drug Offenses
Virginia alone suspended nearly 39,000 drivers licenses for drug convictions in 2015, according to a new report.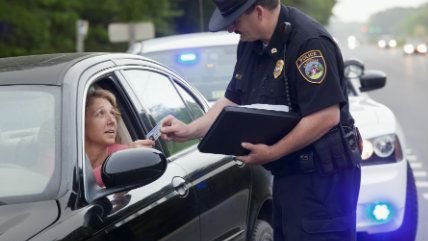 (Ariel Skelley Blend Images/Newscom )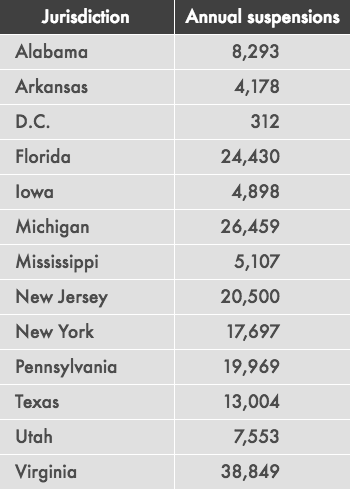 Tens of thousands of people across the U.S. have their licenses suspended for drug offenses, according to a report released this week by the Prison Policy Initiative.
The Prison Policy Initiative report found 12 states and the District of Columbia suspended more than 190,000 drivers licenses in fiscal year 2015 for non-driving-related drug offenses. Virginia suspended the most, with just under 38,849, followed by Michigan with 26,459 and Florida at 24,430.
States suspend hundreds of thousands of licenses a year for a variety of reasons, from failure to pay child support, to unpaid court fines or student debt, to littering. However, civil liberties groups have started pushing back against those laws recently in a number of states.
The Prison Policy Initiative, a nonprofit criminal justice advocacy group, says such practices are costly, ineffective, and needlessly harsh, placing a huge burden on the low-income residents who are disproportionately impacted by license suspensions.
"These drug suspension laws are one of the most punitive and unnecessary side effects of the War on Drugs," Joshua Aiken, a policy fellow at the Prison Policy Initiative, said in a press release. "The report finds that the burden of these suspensions fall most heavily on low-income people and people of color."
Spurred by a 1991 federal law that tied state highway funding to prosecuting the drug war, many states passed laws hitting drug offenders with six-month automatic drivers license suspensions. Thirty-eight states have since opted out of the law and dramatically reduced license suspensions for non-driving offenses, including drug crimes.
For example, Ohio Gov. John Kasich signed a bill into law in june, passed by near unanimous votes in both the state senate and house, ending mandatory suspensions of drivers licenses for drug offenses. According to the state senate, there were around 150,00 Ohioans who had their licenses suspended for non-moving violations.
Washington state stopped suspending licenses for unpaid court fines related to non-moving violations in 2013. Since then, suspensions have dropped by half, The New York Times reported last year, and the state estimated that it saved 4,500 hours of highway patrol troopers' time.
Other states that have reversed laws automatically suspending licenses for drug offenses include Massachusetts, Georgia, Indiana, and Delaware.
Civil liberties groups argue such license suspensions leave people unable to get to work, making them choose between driving on a suspended license—risking more fines and court fees, and a downward spiral of debt—or possibly losing their job.
In addition, states that maintain the practice also require people to pay fees as high as $275 to have their license reinstated—yet another heavy hit on the wallet for a low-income offender.
As Reason reported earlier this year, Virginia also has a particularly aggressive program to suspend licenses for nonpayment of court fines. There are about 900,000 Virginia residents—roughly 11 percent of the state population—who have suspended licenses at any given time in the state.
A nonprofit legal group, the Legal Aid Justice Center, is currently suing the Virginia Department of Motor Vehicles over the state's suspension policies, which it argue violate poor defendants constitutional rights by not taking into account whether they have the ability to pay the fines and fees in the first place.
In November, the Justice Department filed a statement of interest in the case, siding with the Legal Aid Justice Center, which it says has a "plausible claim" that the state is abridging indigent defendants' 14th Amendment rights.
"Suspending the driver's licenses of those who fail to pay fines or fees without inquiring into whether that failure to pay was willful or instead the result of an inability to pay may result in penalizing indigent individuals solely because of their poverty," the Justice Department said.
Meanwhile, the Virginia Supreme Court quietly passed a new rule in November requiring judges to take into account a defendant's ability to pay when levying fines and fees.
In a Richmond Times-Dispatch editorial on Monday, the newspaper argued the state legislature should follow their high court's lead by introducing bills amending the state laws:
"Driving might be a privilege, but it is not merely a privilege. It is one means by which people exercise their right to move about freely from place to place, and revoking driving privileges sharply curtails that right," the editorial board wrote. "License suspensions should not be the go-to penalty they have become; governments should take away driving privileges only when an individual demonstrates that he can't be trusted with them. In short, only driving offenses — DUI, reckless driving, vehicular manslaughter — should carry driving consequences. Let the punishment fit the crime."