Ohio Lawmakers Vote to Ban Abortion Just a Few Weeks Post-Conception
The 'Heartbeat Bill' was considered too unconstitutional to touch, but "Trump's election changed the dynamic."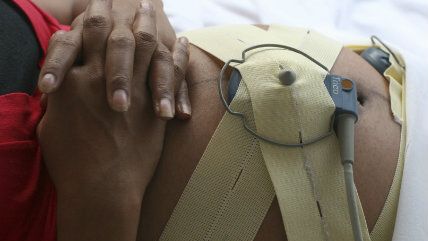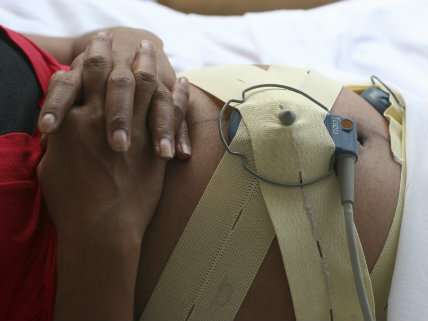 A measure that would ban abortion after a fetal heartbeat can be detected—that's around three- to four- weeks post-conception—has managed to pass both houses of the Ohio legislature, despite the fact that federal courts have struck down all similar bans as unconstitutional. The measure, which cleared the Senate Tuesday as a last-minute addition to a larger bill concerning state child-abuse laws, states that "except when there is a medical emergency or medical necessity," Ohio doctors shall not perform abortions "if it has been determined that the unborn human individual the pregnant woman is carrying has a detectable fetal heartbeat."
Detection of a fetal heartbeat is "a milestone with no meaning to the federal laws governing abortion," as Molly Redden noted back in 2013, when Arkansas and North Dakota first passed heartbeat-based abortion bans. But "the people who support these laws dream that they will provide a legal basis for overturning Roe v. Wade," in which the U.S. Supreme Court said states cannot ban abortion before a fetus could live on its own outside of the womb.
Generally, a fetal heartbeat can be detected at a "gestational age" of around six weeks. But gestational age is calculated from the first day of a pregnant woman's last menstrual period, and doesn't actually refer to the number of weeks a zygote or fetus has existed. A gestational age of six weeks means it's been some three to four weeks since an egg was fertilized.
In effect, a measure like the one Ohio approved would ban abortion at a point in pregnancy when many women don't even realize they're pregnant yet, and long before common chromosomal and developmental abnormalities can be detected. And even if a pregnant woman takes a test exactly 28 days after the start of her last period, that leaves her with just about two weeks to come to a decision about the pregnancy and then obtain the money for, schedule, and obtain an abortion (all while circumventing Ohio's various waiting periods), in a state where many women live hours from the nearest abortion clinic.
This could put the heartbeat bill at odds with not just Roe but the more recent Planned Parenthood v. Casey. That case upheld the idea "that the Constitution protects a woman's right to terminate her pregnancy in its early stages," but presented a new standard for analyzing whether restrictions on abortion were unconstitutional: did they pose an "undue burden" on women's access to abortion. Even if a fetus could somehow be declared viable at around a month old, presenting women with a mere one or two week window to terminate a pregnancy would seem to fail the undue burden test.
Many prominent anti-abortion advocates have opposed measures like Ohio's heartbeat bill, recognizing that they "have no chance in the courts," as Paul Linton, author and former general counsel for Americans United for Life, has said. State and federal courts have struck down such measures from Arkansas and North Dakota, with North Dakota's bill going all the way to the U.S. Supreme Court. In January, the Court upheld a lower court's ruling striking down the measure.
But that was before the death of Justice Antonin Scalia and the election of Donald Trump. A future Supreme Court could perhaps rule differently. Ohio Senate President Keith Faber (R-Celina) said repeatedly that previous versions of the heartbeat bill weren't worth passing because they would be struck down as unconstitutional, but "Trump's election changed the dynamic," he said.
It's unclear whether Ohio Gov. John Kasich will sign the heartbeat bill into law.
Just as the detection of a fetal heartbeat has no particular relevance to federal abortion guidelines, it's a similarly poor marker of moral or medical significance. Our ability to detect a fetal heartbeat means nothing in terms of a fetuses' consciousness or ability to feel pain or viability outside the womb (all of which won't come until later). But it comes after the point of "personhood" that many religions hold. It seems to be an arbitrary point picked by lawmakers because of symbolic value and then justified post-hoc with dubious science.
"As many as thirty per cent of natural pregnancies end in spontaneous miscarriage," the newly-passed bill states. "Less than five per cent of all natural pregnancies end in spontaneous miscarriage after detection of fetal cardiac activity. … Fetal heartbeat, therefore, has become a key medical predictor that an unborn human individual will reach live birth."
The American College of Obstetricians and Gynecologists (ACOG) estimates that about 10 to 25 percent of all pregnancies end in miscarriage. And it's generally accepted that most miscarriages happen in the first 13 weeks of pregnancy. But while chances of miscarriage do decrease with time, there's no evidence that 95 percent of all first-trimester miscarriages happen in the first six weeks, as Ohio claims, and fetal heart rate matters as much for miscarriage prediction as the mere detection of a fetal heartbeat.