FBI Investigates Journalist Over Joke Tweet, Ohio Passes 'Heartbeat Bill,' Trump Named Time Person of the Year: A.M. Links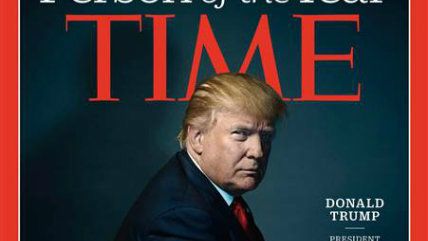 Time magazine cover

Donald Trump was named Time magazine's Person of the Year.

Both houses of the Ohio legislature have approved a measure that would ban abortion after a fetal heartbeat can be detected, which occurs about three weeks post conception.
Angela Merkel endorsed a prohibition on full-faced veils in Germany "wherever it is legally possible."
"Even a cursory investigation or application of common sense would have shown my tweet to be a joke," writes Nick Baumann, a Huffington Post journalist being investigated by the FBI over a joke tweet.
A new Bloomberg Politics poll finds 69 percent of Americans are fine with Trump's stated plan to turn his businesses over to his children while he serves as president.
Scientists at the University of Vienna say that the frequency of Cesarean-section births is having an impact on human evolution by letting more women with narrow pelvises live.
Julian Assange published statements he gave to Ecuadoran prosecutors regarding rape allegations in Sweden.
"Aside from not actually being a country," Liberland— the liberty-loving utopia project on the banks of the Danube—"is also beginning to seem not all that free," writes Morgan Childs in GQ.
Follow us on Facebook and Twitter, and don't forget to sign up for Reason's daily updates for more content.