Stop Sharing News That Trans Teen Suicides Spiked Post-Election—It's Not Just Wrong, But Dangerous to LGBT Youth
This false epidemic going viral could drive real suicide attempts among struggling teens.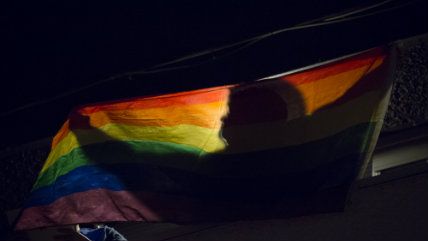 (David Ryder/Polaris/Newscom)
Calls to mental health and suicide hotlines spiked this week after Donald Trump was elected president, according to four major crisis-prevention hotlines, with much of the increase coming in calls from LGBT people. Even worse, the election results allegedly triggered the suicides of at least 10 transgender Americans—the majority of them teenagers—within the few days following Trump's win, according to reports rapidly circulating on social media.
But while the Trump/Pence win and the return of Republican power may have created apprehension among the LGBT community, there's no evidence to support rumors of a recent wave of transgender-teen suicides and very good cause to doubt them. Tragically, though, this false epidemic going viral could help drive up real suicide attempts among struggling teens.
The news of a wave of trans teen suicides began circulating on Wednesday, when a few people posted Facebook updates claiming that the information came from private support groups for parents of transgender children. It was given legs Wednesday night by Guardian writer and Out magazine editor-at-large Zach Stafford, who tweeted that "at least 8 trans youth have committed suicide in the wake of Trump's win." Stafford's tweet was retweeted more than 13,000 times before he deleted it, explaining: "as we continue to investigate the reported suicides, I've spoken w/ GLAAD and we feel it best to take down the original tweet. …until families can come forward & we have better facts. Currently there is fear of suicide contagion due to the social media."
Nick Adams, director of the GLAAD Transgender Media Program, told BuzzFeed News that there were "unconfirmed reports that some trans people died by suicide in the hours following the election," though at that point it was "not possible to substantiate those rumors." He added that "it's important that mainstream media outlets and people on social media do not spread incomplete or inaccurate information about suicides, as it can lead others to attempt self harm."
But while mainstream media may have heeded his warning, the rumors escalated on social media and blogs, spread by activists, journalists, and thousands of scared and saddened individuals. By Friday, a list of names was circulating: 10 transgender Americans who had killed themselves since Tuesday for reasons directly related to Trump's election. It's unclear where this list originated, but soon it was filling Facebook feeds and Twitter timelines.
I had mentioned the transgender-teen suicide rumors in passing in an earlier post, and if there was evidence showing them to be true, I wanted to update the post. But the list immediately raised red flags—everyone was a "revolutionary communist activist" or had a pregnant fiance or a family wherein Trump's election somehow resulted in there only being enough money for one of two trans siblings to transition. So I started looking for more information about any of the named people. If I could find anything affirming these heartbreaking incidents, I wanted to share it. If not… well, what kind of sick person makes things like this up?
In countless comments, tweets, and Tumblr posts, people were sharing the list with genuine grief, worry, anger, and fear. Countless young LGBT people and sad, scared kids were likely seeing this. I'm no expert on social contagion or teen suicides, but the people who are seem to think this is exactly what we don't want: a tide of unsubstantiated suicide rumors that could normalize, glamorize, or otherwise encourage suicide attempts in already depressed or vulnerable young people.
But in trying to confirm that any of the named people had committed suicide, or even existed, I've turned up nothing. Most of their names don't exist in web search results outside of the numerous shares of this list. The more common names yield some people with those names, but none that appear to be dead (i.e., they're still posting on social media) or match the ages or descriptions given. If the named people exist, they appear to have had no online presence prior to their suicides, even though several of them are described as being prominent activists. They had no Twitter profiles, or marriage records, or White Pages listings, or any of the normal online trails you might expect at least the adults to have. Nor was there any record of any of their existences in Nexis' national databases for people, press releases, and news stories.
Figuring the first names given here may not match legal names, I re-tried the Lexis searches using just last names and ages where given. I tried just last names with words such as obituary, funeral, death, suicide, and transgender. I tried just last names in any media mentions in the past seven days. Assuming maybe some of the spellings were off, I tried variations on them that were suggested by search engines (Murano for Murrano, Ryan for Reyan, etc.). I tried full names and last names only in a database of obituaries from the past two weeks. Nothing.
I then searched Nexis for any mentions of suicides, teen suicides, or teenager deaths in the past week, under the theory that maybe the names listed were pure pseudonym but the stories were still based in reality. But this turned up no suicide news and no teen deaths that weren't accounted for otherwise (i.e., a car crash).
Searching Nexis and Google more generally for teen suicide or teen death news, I came across all sorts of older local news articles, including many where the minor was not named but the story of their death still made the news. Teen deaths are relatively rare, and tend to be the subject of at least a local news story whatever the cause of death. I understand only a few days have passed since the election, and the families and loved ones of people who committed suicide may still not want to talk about it publicly. It would be unreasonable to expect all of the stories to have some identifiable record online already. But it's also unreasonable to suggest that none of the them making it online in any way is normal. Even if the parents of trans teens were staying silent, surely there would be at least a grieving friend, gossipy classmate, other family member, or someone in the community who would grieve them anywhere online or talk to a reporter or something. Teenagers in small towns don't just die without anyone in the community noticing, and teenagers in 2016 don't just die without anyone who knew them so much as mentioning their death online for days afterward.
None the above absolutely disproves the listed stories, and people will certainly push back with why they could still be true. But at this point, I don't think there's any reason to believe anything about that viral list.
Of course, this still leaves open the possibility that the transgender and/or teen suicide rumors are true, just not as described therein. Earlier this week, Snopes looked into election-related transgender youth suicides and ruled it neither true nor false but unproven (and unproveable, as no details at all had been provided; this was pre-list of alleged names coming out).
In a statement to Mic, Debi Jackson, the moderator of a private Facebook group for parents of trans children, said that the election results "left many people across the LGBTQ community (as well as other marginalized communities) feeling incredibly anxious leading to acts of self-harm and desperation, including a few suicides and multiple suicide attempts." But she did not say that the suicides and attempted self-harm necessarily involved transgender people specifically, members of her group, or teens.One of the women who first posted about trans suicides later edited the post to clarify that "when I say 'kids' I should clarify that I'm just speaking about someone child… that child could be anywhere from a teenager to an adult."
None of this is to diminish the sadness of suicides that weren't committed by trans people or teenagers, nor to discount reports of increased calls to mental health and suicide prevention hotlines, and certainly not to mock whatever feelings of apprehension LGBT youth feel about the future. It is not a denial that transgender people in general, and transgender and gay youth in particular, have particularly high suicide rates. Rather, it's a suggestion that feeding false information about an epidemic of trans-youth suicides to folks struggling with depression and alienation in the midst of a national climate of panic may not be the best way to support their mental health.