There Is No Violent Hate-Crimewave in 'Trump's America'
Please stop spreading unsubstantiated stories of Trump-induced terror.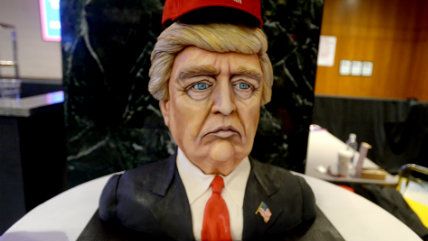 (Van Tine Dennis/ABACA/Newscom)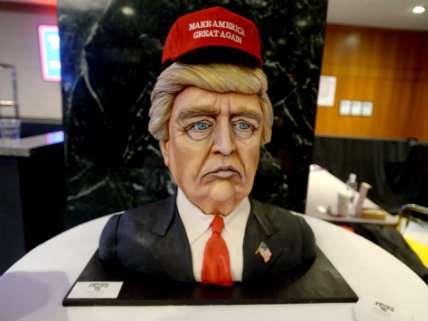 See an update on post-election hate crimes, hoaxes, and hyperbole here.
Let's get this out of the way: there's no doubt that Donald Trump's policies may pose a direct threat to certain classes of American people. But in the wake of his Tuesday night election as president of the United States, there has been a wave of people worrying for the physical safety of Mexicans, Muslims, and anyone else who isn't white, male, and gender-conforming. The fear seems to legitimately be that there are would-be perpetrators of sexual assault and race-based violence that have been well-behaved so far but will now, emboldened by a President-elect Trump, suddenly go wild with the raping and the hate crimes.
Implausible? I think so. But the narrative has been bolstered by a few high-profile incidents of alleged aggression in Trump's America.
The first one to really go viral involved a Muslim female student at the University of Louisiana who claimed to have had her hijab ripped off and her wallet stolen the day after Trump's election by two white men wearing Trump hats. But on Thursday, local police announced that the young woman had admitted she fabricated the story. "This incident is no longer under investigation," the Lafayette Police Department said in a press release.
In another incident, this one in San Diego, a young Muslim woman's purse and car were stolen by one white male and one Hispanic male. While the men allegedly made negative comments about Muslims, it seems car stealing was more their motivation than harassment or intimidation—which is obviously shitty, but not necessarily a Trump-inspired act of bigotry.
And an alleged incident of a gay man named Chris Ball getting beaten up by Trump supporters in Santa Monica on election night seems to have not happened the way it was initially recounted, if the incident even happened at all. The Santa Monica Police Department posted a message to Facebook Thursday saying that neither the department nor city officials had "received any information indicating this crime occurred in the City of Santa Monica" and "a check of local hospitals revealed there was no victim of any such incident admitted or treated."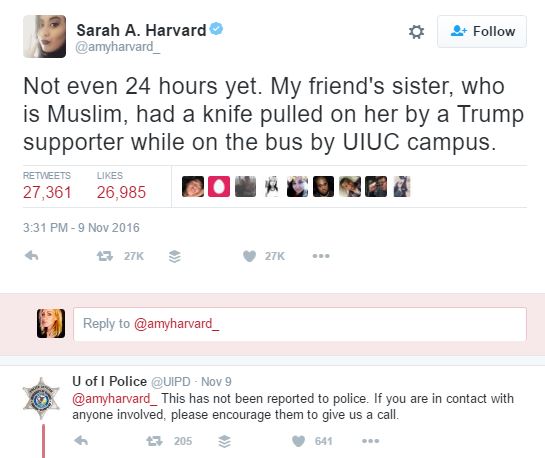 Other instances of "Trump inspired" violence and vandalism have also turned out to be hoaxes or misinterpretations. An alleged Ku Klux Klan rally in honor of Trump's victory turned out to be an old photo of conservatives carrying U.S., Gadsden, and Christian flags that were billowing out in a manner mistaken in a grainy photo for Klan robes. There were no Southern Illinois University students posting blackface selfies to social media after Trump's win.
A Nazi flag that went up over a home in San Francisco Wednesday wasn't a show of support for anti-Jewish sentiment but "a comment on our new president-elect," according to the anti-Trump resident who put it up. "I am hoping people get that this is a political statement, and that I'm not a Nazi supporter."
Other anti-Semitic imagery—such as "Sieg Heil 2016" spray-painted on an abandoned store front in Philadelphia—may have been legit expressions of bigotry or may have been similar attempts at commentary on Trump's election; it's unclear because no one is taking credit for them. The bulk of racist graffiti incidents appear to have happened around middle- and high-schools, which doesn't make their messages any less hurtful, I'm sure, but does suggest a phenomenon driven by mean and immature kids rather than rogue bands of serious neo-Nazis.
And while all sorts of horrible incidents are being reported on Twitter and Facebook… well, anyone can say anything on Twitter and Facebook. The bulk of these stories are "friend of a friend" told me types. But if men were really going around pulling knives on Muslim women on public buses in Trump's name, there would at least be local or campus news reports of it. Same, too, for the alleged wave of transgender teen suicides which keep getting mentioned in media but for which no one can offer any evidence. (Update: more on the alleged suicides here.)
I point all of this out not to mock or attempt to diminish the fear or dismay any individuals feel right now but to put things in perspective. The "hate acts reported across the country" in the wake of Trump's victory seem mostly relegated to graffiti at a few schools and one carjacking which may or may not have had anything to do with racial or religious prejudice.
Less dramatic acts of racism—name calling, derogatory comments made in passing, etc.—do seem to be bubbling up more frequently this week, if the sheer number of such anecdotes shared online means anything. But while that's a shame in and of itself, it's also a world apart from the wave of "hate crimes" and violent attacks that many are conjuring up right now.
Pushers of this "rampant racist crimewave" in Trump's America story will dismiss posts like this one, and anyone who challenges their narrative, as naive, enabling of racists, or unconscionably non-empathetic to non-straight, white, Christian Americans. But I'm not the one trying to stoke false terror in vulnerable people or over-hype America's levels of hate for pageviews and Twitter faves.
Update, November 12: Two more tales of race-based and Trump-inspired harassment have begun to unravel…
In one of the widely-shared stories, a black woman claimed that four white men had threatened her while she was pumping gas at a Smyrna, Delaware, gas station Wednesday. After talking about things would change now that Trump was president, one of the men allegedly approached her and asked, "How scared are you, black bitch?" before saying "I should kill you right now. You're a waste of air." Another of the men allegedly flashed a gun and said, "You're lucky there's witnesses or else I'd shoot you right here."
The woman, Ashley Boyer, posted about this awful incident on Facebook in an update that was since deleted; on Thursday, she followed up by noting that "charges were filed, fugitives were caught." But when PhillyVoice contacted Smyrna police Thursday, the department said no report about such an incident had been filed and no one had contacted them about anything similar. So PhillyVoice reached out to Delaware State Police… who reported that no neighboring police agencies had received any such reports either, and there was no record of any local 911 calls about such an incident. "There is no record of this occurring in Smyrna, if at all," said Corporal Brian Donner of the Delaware State Police.
The second alleged incident, out of Minnesota, involved an Asian college student named Kathy Mirah Tu who said she was accosted by a white man while crossing a bridge on the University of Minnesota-Twin Cities campus. "I was stop in my tracked by a white male, who yelled at me to 'Go back to Asia,'" Tu posted to Facebook, in an update that had received more than 17,000 shares as of Thursday evening. "I pretended to not hear any thing and continue on walking since I didn't want to create conflict. Shortly after that moment, I was stopped by that same man who told me 'Don't you know it's disrespectful to walk away from someone when they are talking to you?" After that, the man grabbed Tu's wrist and threatened to hit her so she punched him, according to her post. "His friends who were watching the entire situation go down saw that I was going to the win fight and came over to his rescue and accused me of assaulting him and called the police."
According to Tu, the police arrived and handcuffed her but eventually let her off with a warning. Yet neither the campus police nor the Minneapolis Police Department have any record of the incident Tu describes. "We heard complaint from student related 2 Wash bridge yestdy, UMPD didnt respond to bridge or make an arrest," the University of Minnesota Police Department tweeted Thursday, also asking Tu or anyone who did know about the alleged incident to come forward. Here was the response from the city police: