Arizona Rejects Marijuana Legalization
Voters approved medical marijuana by a razor-thin margin in 2010.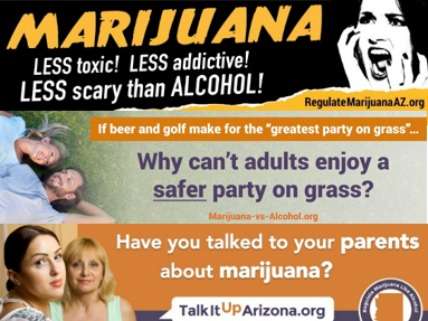 Yesterday Arizona voters, who approved medical use of marijuana by a razor-thin margin in 2010, declined to take the additional step of legalizing the drug for recreational purposes. With 68 percent of precincts reporting, the legalization initiative, Proposition 205, was opposed by 52 percent of voters.
Proposition 205 would have allowed adults 21 or older to possess up to an ounce of marijuana in public, grow up to six plants at home, keep the produce of those plants at home, and give other adults up to an ounce at a time "without remuneration." It would have created a Department of Marijuana Licenses and Control to oversee the commercial production and distribution of marijuana products, with licensing preference given to operators of existing medical marijuana dispensaries, and imposed a 15 percent tax on the retail price.
Proposition 205 was supported by two Arizona congressmen, Raul Grijalva and Ruben Gallego, both Democrats. It was opposed by two other congressmen, Trent Franks and Matt Salmon, and by Gov. Doug Ducey, all Republicans. Supporters of the initiative raised $5.2 million, while opponents raised $5.6 million. The chief donor to the opposition campaign was Discount Tire, which is based in Scottsdale.