Polls Still Suggest California and Massachusetts Will Legalize Marijuana
Support for legalization hovers around 50 percent in Maine, Arizona, and Nevada.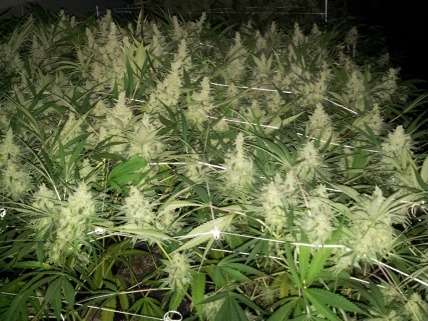 Voters in five states will decide whether to legalize marijuana for recreational use, while four states could legalize or expand access to medical marijuana. Polling is strongest in California, where general legalization is on the ballot, and Florida, which seems to be on the verge of becoming the first state in the Southeast to allow medical use.
The latest survey indicates that Proposition 64, California's legalization initiative, is supported by 58 percent of likely voters. One of them is House Minority Leader Nancy Pelosi, who revealed her preference on Friday. In 2010—when, according to Gallup, 46 percent of Americans thought marijuana should be legal, compared to 60 percent today—Pelosi declined to take a position on Proposition 19, the last attempt to legalize marijuana in California.
At least six other members of California's congressional delegation, including two Republicans, support this year's initiative. Sen. Barbara Boxer (D-Calif.), who opposed legalization in 2010, says she is inclined to vote for it this year. Not so Sen. Dianne Feinstein (D-Calif.), a diehard prohibitionist who warns that Proposition 64 will cause increases in underage consumption and traffic accidents. Feinstein seems to be the only member of Congress from California who has come out against the initiative. In contrast with 2010, newspaper editorials are also leaning in favor of legalization—15 to 10, by Ballotpedia's count.
In addition to California, where Proposition 64 has received majority support in every poll taken this year, legalization looks likely in Massachusetts, where the latest poll puts support at 62 percent, raising the average for October from 52 percent to 55 percent. Legalization looks iffier in Maine, where the latest survey puts support at 50 percent, down from about 53 percent in two earlier polls. Support for legalization also hovers around 50 percent in Arizona and Nevada.
Among the four states with medical marijuana on their ballots tomorrow, passage still looks likely in Florida, where 71 percent of voters favored Amendment 2 (which needs 60 percent to pass) in the most recent poll. In Arkansas, where one of two medical marijuana inititiatives was disqualified late last month, the remaining measure, Issue 6, was supported by 50 percent of voters in the latest survey. A Montana measure aimed at expanding patients' access to marijuana was favored by just 44 percent of voters in a survey last month, while there are still no polling data on North Dakota's medical marijuana measure.