Model Dani Mathers Faces Criminal Charge Over Fat-Shaming Snapchat Photo
The 2015 Playboy "Playmate of the Year" was charged with misdemeanor invasion of privacy.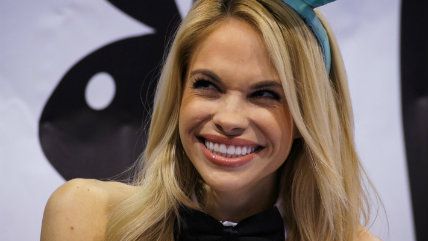 (Mike Danenberg/PressLine/ Splash/Newscom)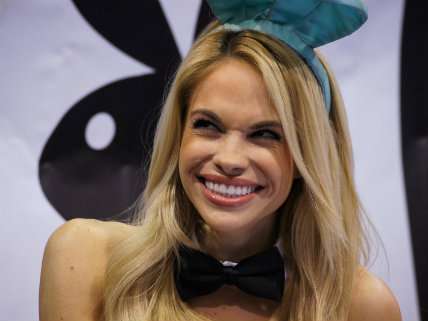 Los Angeles model Dani Mathers, Playboy's "Playmate of the Year" for 2015, has been indicted on criminal charges over a photo of an older, nude woman Mathers took in a gym locker-room and allegedly shared on Snapchat. The Los Angeles city attorney's office announced last Friday that Mathers, 29, was charged with one count of misdemeanor invasion of privacy.
She is accused of secretly snapping a photo of the naked 70-year-old woman in an LA Fitness shower-area in July and posting it to Snapchat with the comment: "If I can't unsee this then you can't either." LA Fitness officials somehow saw the snap, and reported it to Los Angeles police.
Mathers does not deny taking and sharing the photo, but she says it was meant to be sent as a private message and not to be posted publicly. She has since apologized on social media, sharing an apology video on Snapchat and writing on Twitter: "I'm sorry for what I did… I need to take some time to myself now to reflect on why I did this horrible thing. Goodnight."
"Prosecutors often use invasion of privacy charges against peeping Toms and people who conceal cameras to take sexually suggestive photos of women," the Los Angeles Times noted. "But legal experts said this marks a rare time authorities have brought charges against someone over photos making fun of someone's weight. It comes amid growing awareness and outrage about 'body-shaming'—particularly common on social media."
Despite the spin about body-shaming and the use of Snapchat here, however, there doesn't seem to be much that's novel about it. Mathers' motivation may not have been sexual and her intention may not have been to share the photo to a mass audience, but both are likely irrelevant from a legal standpoint. Like any peeping Tom, Dick, or Harry, she still captured an intimate image of someone without their knowledge or consent, in a place where they have a reasonable expectation of privacy, with the intent to share it with one or more individuals. This would seem to fulfill the requirements under California's invasion of privacy statutes, so long as it can be shown that Mathers acted "with the intent to invade the privacy" of the woman of whom she took and shared a nude pic.
Thomas Mesereau, Mathers' attorney, defended her by saying that a) the woman did not have a reasonable expectation of privacy in the fitness-center shower area and that b) Mathers "never tried to invade anyone's privacy and never tried to violate any laws." But, again: she secretly took a picture of an old lady who was just trying to shower after a workout and then tried to share it with at least someone. I'll buy that Mathers didn't know she was breaking the law, but not that her actions can be construed as anything other than a conscious choice to invade someone's right to privacy.
Unfortunately, Los Angeles law-enforcement is actively stoking the impression that this isn't about old-fashioned privacy rights but some new-fangled effort at eradicating "body shaming." Announcing the charges against Mathers, City Attorney Mike Feuer said it was important that city officials send a message about the "painful, long-term consequences" that can come from making mean comments about people's physical appearances. "Body-shaming is humiliating," said Feuer. "It mocks and stigmatizes its victims, tearing down self-respect and perpetuating the harmful idea that our unique physical appearances should be compared to air-brushed notions of 'perfect.' What really matters is our character and humanity."