Libertarian Gary Johnson Releases List of Potential Supreme Court Nominees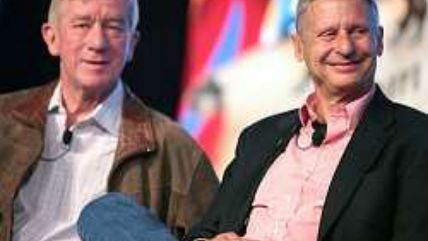 (Gage Skidmore/Foter.com)
Libertarian presidential candidate Gary Johnson today released a list of six prospective Supreme Court nominees.
They are:
• Ninth Circuit Court of Appeals Judge Alex Kozinski;
• Libertarian legal scholar Randy Barnett of the Georgetown Center for the Constitution;
• D.C. Circuit Court Judge Janice Rogers Brown;
• Former Republican Congressman from California Tom Campbell, currently Dean of Chapman University School of Law;
• Miguel Estrada, a lawyer with the firm Gibson, Dunn & Crutcher;
• Law professor Jonathan Turley of George Washington University Law School.
Johnson had previously been talking up Turley and Campbell. He also spoke against specific issue litmus tests for Supreme Court picks, as Damon Root reported.
Some past Reason links on some of these choices:
• Interviews with Judge Kozinski from 2013 by Matt Welch and from 2006 by Shikha Dalmia.
• Interview with Randy Barnett by Damon Root from June 2016, and with Nick Gillespie from August.
• Damon Root praised Judge Brown in 2015. More praise for Brown's decisions from Root from May 2016.
• ReasonTV interview with Tom Campbell from 2009. Campbell wrote for Reason in 2008 in opposition to the state's Proposition 8, banning gay marriage.
A May 2009 Reason feature speculating on replacements for Justice Souter had votes from our distinguished panel of judge-pickers for Barnett (3), Kozinski (2), Brown (2), and Estrada (1).