Colorado Politicians Lend Lies to Pot Prohibitionists in Arizona and California
Opponents of legalization promote misleading claims about crime, taxes, underage use, and traffic fatalities.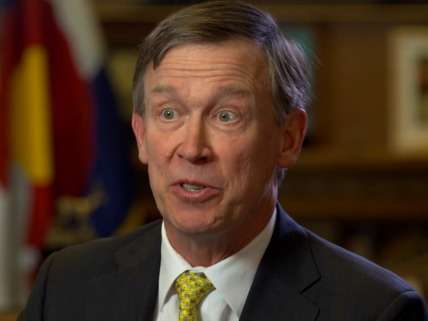 In an interview with 60 Minutes on Sunday, Colorado Gov. John Hickenlooper conceded that marijuana legalization so far has turned out better than he expected but suggested that other states should wait for more data before they follow Colorado's example. "I urge caution," he said a week before voters in five states decide whether to legalize marijuana for recreational use. "My recommendation has been to go slowly and probably wait a couple years and let's make sure we get some good vertical studies to make sure that there isn't a dramatic increase in teenage usage, that there isn't a significant increase in abuse like while driving. We don't see it yet…but we don't have enough data to make that decision."
That's a perfectly reasonable position, if you assume that continued prohibition imposes no costs and that there is no moral problem with punishing people for actions that violate no one's rights. Hickenlooper opposed Amendment 64, Colorado's legalization initiative, on the grounds that his state should not be the first to take the risk of tolerating cannabis consumption without a doctor's note. But he admits that the sky has not fallen as a result, while reserving the possibility that it may yet fall. Last May, after repeatedly saying he would reverse legalization if he had "a magic wand," Hickenlooper told the Los Angeles Times, "If I had that magic wand now, I don't know if I would wave it. It's beginning to look like it might work."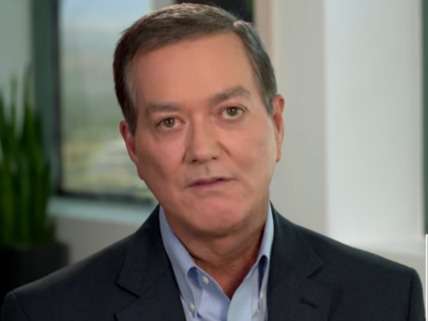 Hickenlooper is a model of intellectual honesty compared to former Colorado Gov. Bill Owens and and former Denver Mayor Wellington Webb, who appear in a TV spot urging Arizona voters to reject Proposition 205, the legalization initiative on the ballot in that state next week. "Four years ago, Colorado voted to legalize marijuana," Owens says in the ad. "Colorado now leads the nation in teen use of marijuana." Since that was also true before legalization, Owens' implication is more than a little misleading. Owens also claims that "marijuana edibles are marketed to children," which is simply not true, since a minimum purchase age of 21 is strictly enforced and regulations prohibit advertising, packaging, and even product shapes that might appeal to kids.
Owens adds that "marijuana-related traffic deaths have increased 62 percent." The source for that figure is a recent report from the Rocky Mountain High-Intensity Drug Trafficking Area, which counted "fatalities involving operators testing positive for marijuana." That number includes drivers who tested positive for inactive metabolites or THC levels too low to affect their performace. The fact that a driver "test[ed] positive for marijuana" therefore does not mean he was under the influence of marijuana at the time of the crash, let alone that marijuana contributed to the crash. Contrary to what you might assume, "marijuana-related traffic deaths" are not necessarily traffic deaths related to marijuana.
Next up in the ad is Webb, who says, "We were promised new money for education. Instead that money is going to marijuana regulation and the pot industry." As three Colorado legislators pointed out yesterday in an email to the leaders of the No on 205 campaign, the Colorado Department of Education got about $138 million in marijuana tax money in the two most recent fiscal years, which "far exceeds the amount that was distributed for the purposes of regulating marijuana" (about $21 million).
Also contributing to the confusion is Denver District Attorney Mitch Morrissey, who last month wrote a letter for opponents of legalization in California that claims "the Denver Police Department is busier enforcing marijuana laws and investigating crimes directly related to marijuana, including murderers [sic], robberies and home invasions, than any other time in the history of the city." As The Denver Post notes, "The Denver Police Department's own analysis [of] the city's rising crime rates could not pin blame on marijuana. While some major crimes such as homicides, aggravated assaults and auto thefts have risen since pot was legalized, population growth is more likely the cause, the report said." John Hudak, who studies marijuana policy at the Brookings Instititution, called the letter "a pretty strategic use of data that ends up being insulting to the public."