Obama Commutes Sentences of 98 Drug Offenders, Including 42 Lifers
He could still surpass Nixon in percentage of petitions granted.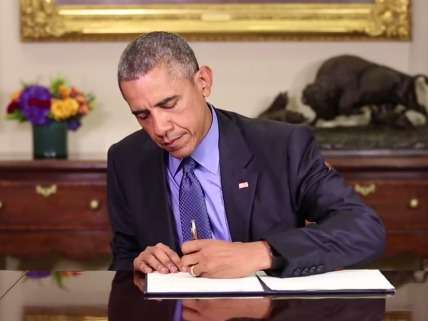 When he was arrested in 1990 for participating in a cocaine conspiracy, Ignatzio Giuliano was the 55-year-old owner of a dinner cruise boat in Fort Lauderdale. He is now an 81-year-old federal prisoner, suffering from multiple maladies and eager to spend time with his children and grandchildren before he dies. Thanks to President Obama, it looks like Giuliano will get that chance.
Giuliano is one of 98 prisoners whose sentences Obama shortened yesterday and one of 42 who received life sentences for nonviolent drug crimes. In a 2013 interview with the American Civil Liberties Union (ACLU), Giuliano said his defense attorney neglected to tell him prosecutors had offered a plea deal under which he would have received a five-year sentence. Because he went to trial and qualified as a "career offender" based on four prior convictions for nonviolent offenses involving cocaine and marijuana, he received a mandatory sentence of life without parole. The leader of the cocaine conspiracy, who testified against Giuliano and two other defendants, was released after serving three years.
"I am an old man now," Giuliano told the ACLU in 2013. "I made mistakes in my life, but I am not a threat to society, and I begrudge no one. My co-defendants have been home for years. All I am asking is to be afforded the dignity to spend the last few years of my life with my family, and to die outside of prison." After spending a quarter of a century behind bars, Giuliano is now scheduled to be released next February.
This latest batch of commutations raises Obama's total so far to 872, nearly all of them involving nonviolent drug offenders. That is more commutations than were issued by his 11 most recent predecessors combined. According to the White House, the 688 commutations since the beginning of 2016 are "the most ever done by a president in a single year"—not surprising, since Obama's commutations have been strikingly backloaded, with 79 percent coming during his last year in office and 98 percent in the second half of his second term. He shortened just one sentence during his first term.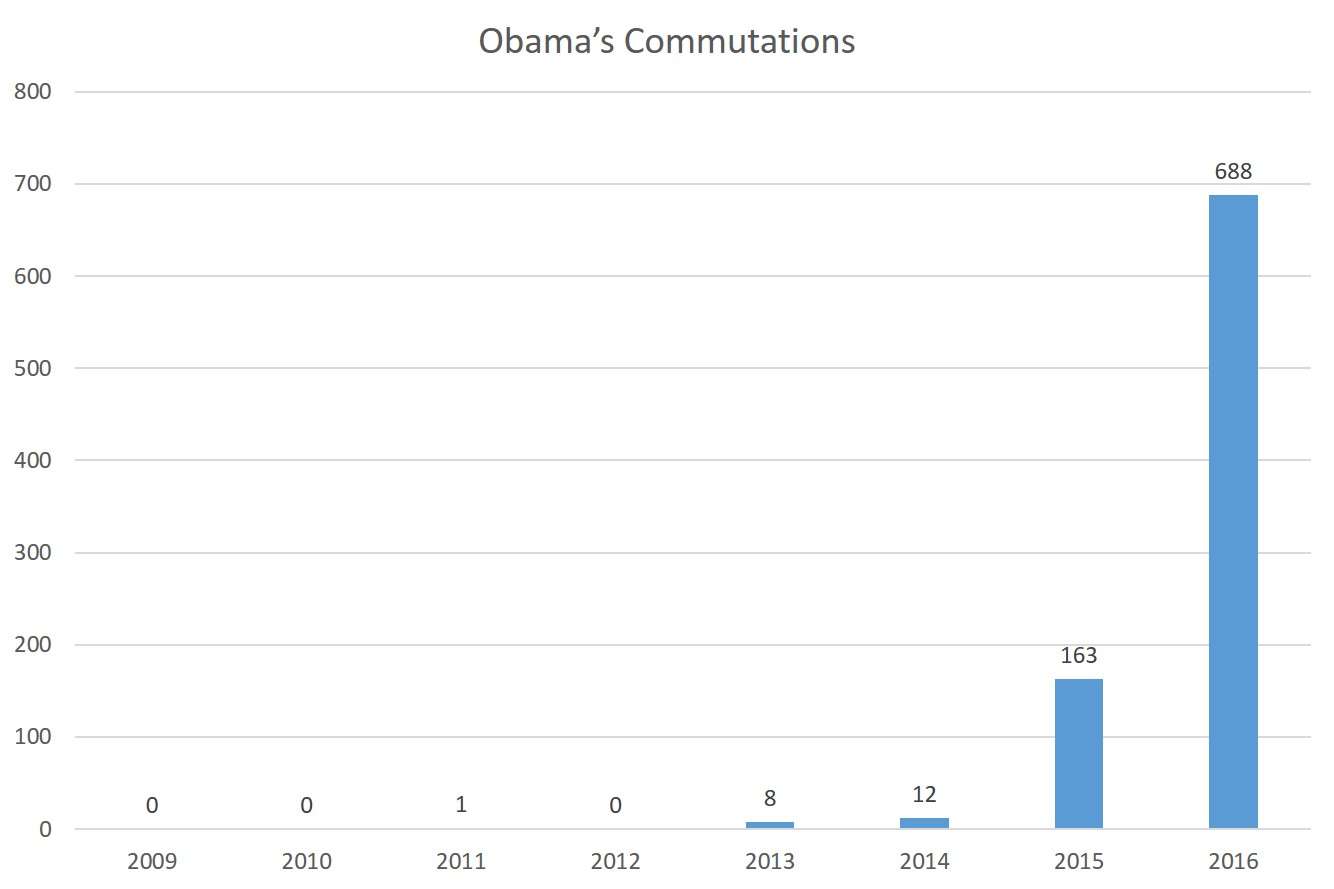 Obama clearly is trying hard to make up for lost time. In a speech on Tuesday, Deputy Attorney General Sally Yates said there will be "many more [commutations] to come." Yesterday White House Counsel Neil Eggleston said Obama is committed to "using his clemency authority through the remainder of his time in office." If he maintains this month's rate in November, December, and January, his total will be around 1,500. If he picks up the pace, he could still reach the "thousands" predicted in 2014.
Even 2,000 commutations would represent just 6.9 percent of the 29,000 or so petitions Obama has received, making him slightly more merciful than Richard Nixon by that measure. That nevertheless would represent a huge improvement from where Obama stood just six months ago.
Clemency Project 2014, the consortium of volunteer lawyers that has been helping the Justice Department sort through petitons, reports that it has been contacted by 36,000 federal prisoners and completed reviews for 34,000. Of those, about 2,150—just 6.3 percent—met the DOJ's picky criteria for special consideration, which include having a minimal prior criminal record and completing at least 10 years of a sentence that would have been shorter under current law.
Even if Obama ends up helping thousands of people who do not belong in prison, thousands more will remain behind bars by the time he leaves office. Congress could do more by passing retroactive sentencing reform, which foundered this year on pre-election anxieties and fearmongering by mindlessly draconian legislators like Tom Cotton. "You can't fix 30 years of bad policy overnight," says Kevin Ring, vice president of Families Against Mandatory Minimums. "Every day, people are sentenced in federal court based not on what their judge thinks is appropriate, but on what Tip O'Neill, Strom Thurmond, and a bunch of other deceased lawmakers believed 30 years ago. It's just ridiculous."