Oregon Police Reform Activist Launches Write-In Candidacy for Sheriff
Teressa Raiford wants to change the culture of the scandal-plagued office.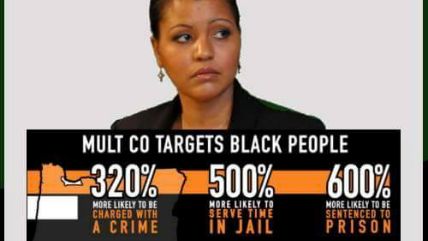 (Don't Shoot Portland / Facebook)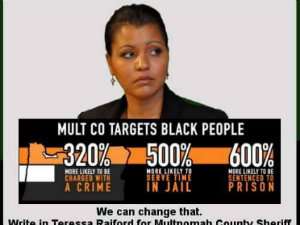 It has not been a good year for the Multnomah County Sheriff's Department, whose jurisdiction covers most of Portland, Oregon. In February, an internal audit identified disproportionate uses of force against black inmates in the county's jails. This was followed by a series of rolling scandals surrounding Sheriff Dan Staton, including accusations of sexual harassment, hostile workplace practices, and the improper spending of discretionary funds on a new Dodge Charger.
These allegations led him to step down in August, choosing as his replacement former Portland Police Bureau (PPB) Chief Mike Reese. That appointment, however, has done little to mollify Portland's increasingly vocal population of activists, who mostly remember Reese's tenure for a critical U.S. Department of Justice report on the PPB's treatment of the mentally ill.
One such activist, Teressa Raiford, has decided to launch an insurgent write-in campaign against Reese, who is otherwise running unopposed for Multnomah County Sheriff.
Raiford—who founded the police reform group Don't Shoot Portland—tells Reason she sees her candidacy as a way to give people an actual choice in November. "I don't believe that an election where you're running uncontested…I don't think that that promotes the kind of democracy or culture for change that we need."
It's not just the lack of accountability at the ballot box she's concerned about. Raiford had already been working with the Department of Corrections to try to improve the way it quantifies uses of force in its facilities, and to make sure that force isn't being employed in a retaliatory or retributive way. She says getting elected sheriff would give her a more direct role in crafting and enacting those metrics. "I would be responsible for building those quantifiers. I would be responsible for rebuilding and developing program measurements that would help us offset the violence that is happening to corrections officers and also to the people that actually live in these facilities."
She also hopes to change the way minority communities and law enforcement relate to each other in Portland, a place she refers to as "whitelandia" and "a utopia for racism." Right now, she says, there is less "community policing" and more "community investigation and interrogation." As a result, "people don't want to have a lunch with a cop, they don't want to go have a coffee, they don't want you to come and ask their children what their names are and where they're going."
Raiford believes that her background will allow her to bridge that mistrust. "As a fourth-generation Oregonian and someone that is an activist, that type of trust will be improved by my position in" the Sheriff's Department, she says. "It would change the entire culture of the way Multnomah County does business."
As a write-in candidate, the odds against her are high. By the time she officially announced her candidacy on Monday, many in Oregon—which votes by mail—had already cast their ballots. But Raiford says she's expecting a lot of support from those who would not generally be involved in an election like this: "I have had a lot of different people say, 'Oh God, you're forcing me to use my right to vote.'"