'Sorry I Tased You' Cake Part of Federal Lawsuit Against Former Florida Deputy
The tasing incident allegedly happened last June, when Deputy Michael Wohlers took a friend's tea and used his taser on her after she tried to get it back.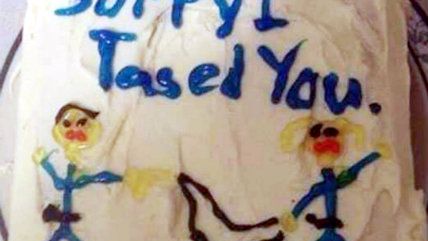 (lawsuit, Byron v. Wohler)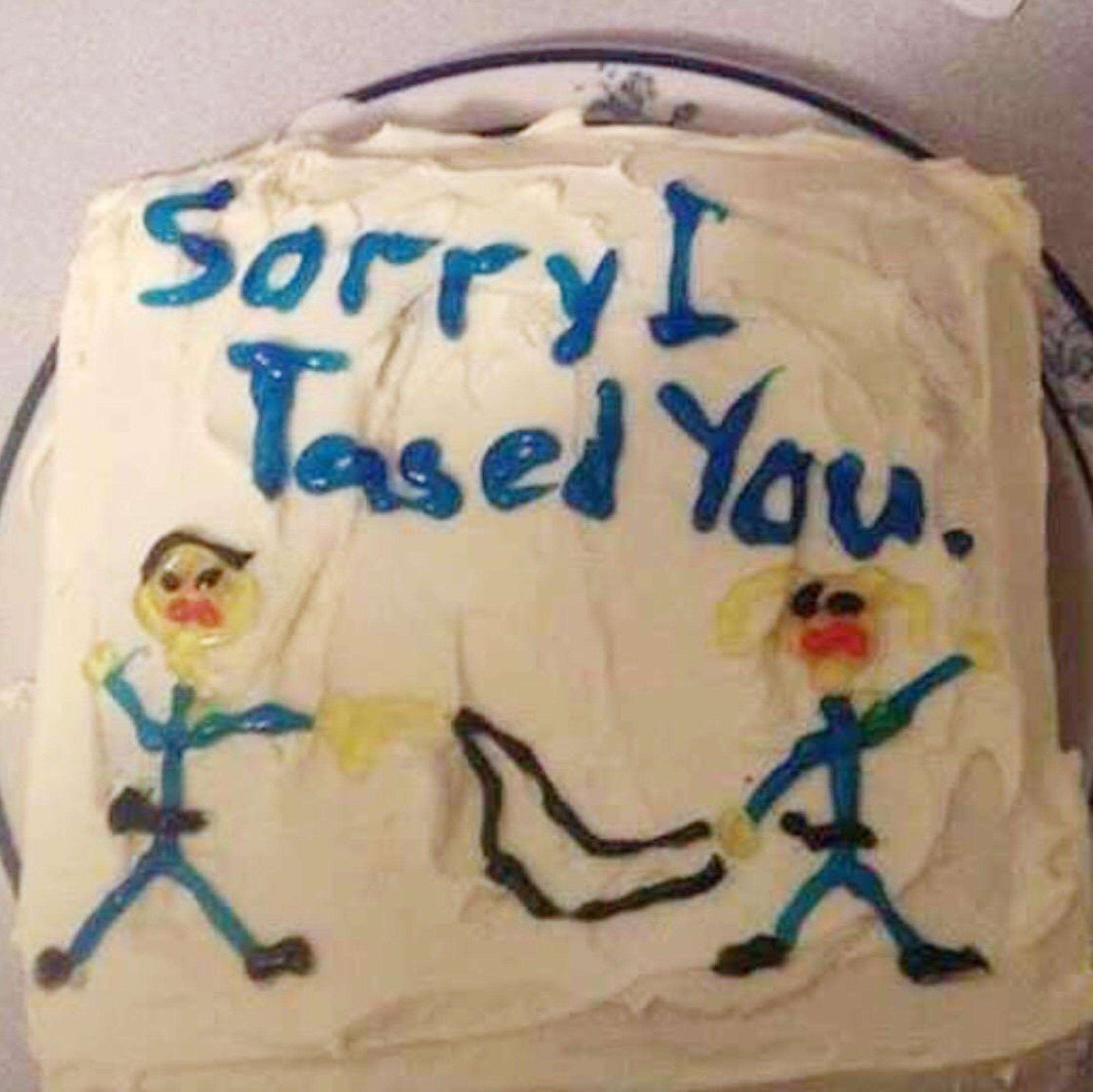 What's a cop to do when he tases a friend over an iced tea? Stephanie Byron, a Florida woman who says she was tased by ex-Escambia County Sheriff's Deputy Michael Wohlers last summer, claims that Wohlers went on to text her a photo of a "Sorry I Tased You" cake.*
This tidbit comes from a civil lawsuit Byron filed against Wohlers in May with the U.S. District Court for the Northern District of Florida. The tasing incident supposedly happened the previous summer, when Wohlers stopped by an apartment complex where Byron worked. According to the lawsuit, Wohlers took Byron's tea and when she tried to get it back he used his taser on her. After she fell to the ground, Wohlers then "jumped onto Ms. Byron, kneeing her in the chest" and "forcefully removed the Taser prods."
Byron alleges that Wohlers subsequently texted her a photo of a cake featuring one stick figure tasing another and the message "Sorry I Tased You," saying he wanted to give it to her. Byron's attorney filed that photo with her lawsuit.
Wohlers has denied the allegations, saying his taser was discharged in the course of "horseplay" with Byron. He resigned from Escambia Sheriff's Office in July 2015, while under investigation for the alleged misconduct and filing a false report about the incident.
On Monday, the state Criminal Justice Standards and Training Commission placed Wohlers on a one-year probationary period during which he can't seek law-enforcement employment in Florida. Maybe Wohlers can use the time to explore what's clearly an untapped police greeting-card market. Sorry I tased you, sorry I shot you instead of tasing you, sorry I forgot to turn on my body camera that day I shot you, sorry I implied to everyone that you were a sex trafficker, sorry I saddled your 11-year-old with a criminal record, sorry I helped wrongfully convict you… the possibilities are really endless.
[P.S. See Anthony Fisher's recent Reason feature for why it can be so hard to prevent bad cops from getting new jobs.]
*This piece originally reported that Wohlers had baked the cake himself. Here's the real story of the original cake.