Phoenix Cops Forced Driver to Eat His Marijuana, Didn't Know What Else To Do With It
One of the cops just joined the force after spending years working narcotics for Chicago PD.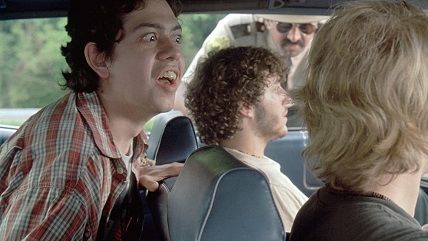 (BROKEN LIZARD PRODUCTIONS/CATALAND FILMS/JERSEY SHORE / Album/Newscom)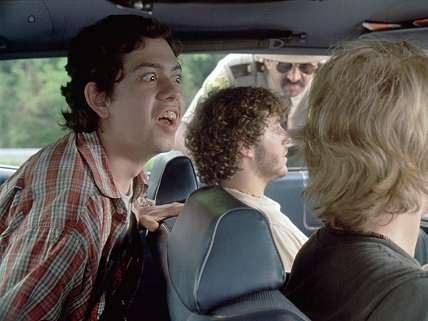 Four (4!) police officers in Phoenix were involved in a traffic stop at 3:30 in the morning on Tuesday. According to ABC 15, police found a gun and "a small amount of marijuana" on the 19-year-old driver, who claimed he was licensed to use medical marijuana. Police wrote a citation for the marijuana and let him go. But not with the weed. A spokesperson for the Phoenix police said three of the cops didn't know what to do with the marijuana after seizing it, so they forced the driver to eat it. The driver is now suing the police department.
The three cops were described by ABC 15 as "rookies," but the TV news station found out at least one had previously worked several years as a police officer in the narcotics unit in Chicago. According to the Phoenix Police Department, a criminal investigation that has identified two of the cops as "possibly suspects" has been opened as well as a separate internal investigation.
"The Phoenix Police Department has a strong history of holding officers accountable for their actions, and this includes seeking criminal charges whenever appropriate," Joseph Yahner, the police chief, said in a statement. "As your Police Chief, I want you to know how appalled I was when I was informed about these allegations. The conduct alleged by our resident is contrary to everything we stand for as community servants," his statement continued.
Earlier this month, police in Phoenix cornered a suspected bank robber after a car chase and shot through his windshield, killing him on live television. Police said the suspect had previously shot at them, and the incident is being investigated by local police, the county sheriff, and the FBI. And earlier this year, in March, the county attorney declined to charge three officers for using excessive force in incidents caught on tape. In February an ex-cop who served as the police department's liaison to the LGBT community pled guilty to sex crimes involving two young boys he met through the department. He was sentence to 23 years in prison. And in 2013 an ex-cop was found guilty for assaulting and killing an unarmed man while responding to a domestic violence call and sentenced to seven years in prison.