Ohio Man Arrested for Mocking Cops Files First Amendment Lawsuit
Anthony Novak's parody of the Parma Police Department's Facebook page prompted a felony prosecution.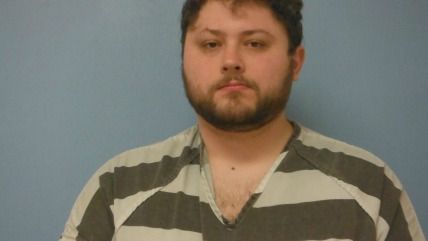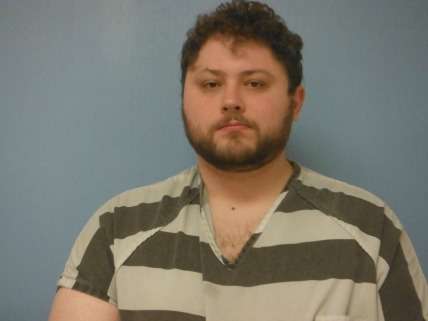 This week Anthony Novak, the man who was arrested for creating a parody of the Parma, Ohio, police department's Facebook page, filed a federal lawsuit accusing seven officers of violating his constitutional rights by using the legal system to punish him for making fun of them. Last month Novak was acquitted of using a computer and the internet to "disrupt, interrupt, or impair" police services, a felony punishable by up to 18 months in prison. Now he is trying to get some compensation from the city for the injuries inflicted by that trumped-up charge, arguing that the cops did not have probable cause to arrest him or search his apartment. He also argues that the statute used to prosecute him is "unconstitutionally overbroad because it provides the police unfettered discretion to wrongfully arrest and charge civilians in the State of Ohio with a crime for exercising their First Amendment rights."
There is some tension between those two arguments, because if the law is as vague as Novak claims, police arguably did have probable cause to believe he had violated it. Either way, it should have been obvious to them that their vendetta against Novak was unconstitutional. It also should have been obvious to the municipal judge(s) who obligingly issued the warrants that police sought, the local prosecutors who pursued the case, and the judge who oversaw the trial after rejecting Novak's argument that his prosecution was inconsistent with the First Amendment.
Novak's parody, which he posted on March 1 and deleted on March 3 after the Parma Police Department issued an indignant press release about it, copied the logo from the department's actual Facebook page but was in other respects notably different. It included notices announcing "our official stay inside and catch up with the family day," during which anyone venturing outside between noon and 9 p.m. would be arrested; advertising a "Pedophile Reform event" where sex offenders who visited all of the "learning stations" could qualify to be removed from the state's sex offender registry; and offering teenagers abortions, to be performed in a van in the parking lot of a local supermarket "using an experimental technique discovered by the Parma Police Department." There was also a warning that anyone caught feeding the homeless would go to jail as part of "an attempt to have the homeless population eventually leave our city due to starvation," along with an ad seeking applicants for jobs with the police department that said "Parma is an equal opportunity employer but is strongly encouraging minorities to not apply."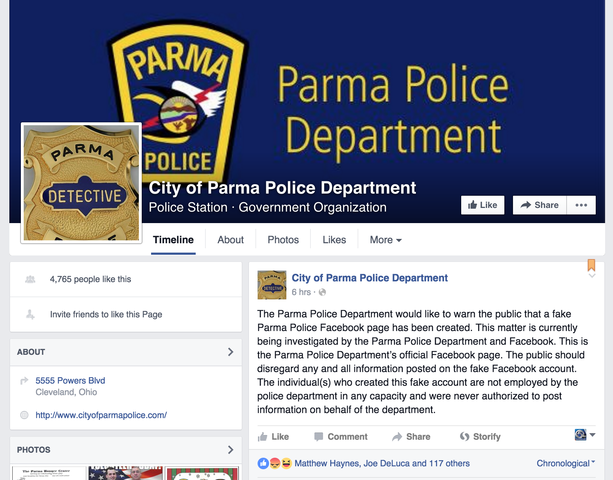 The police were not amused. "The Parma Police Department would like to warn the public that a fake Parma Police Facebook page has been created," said a Facebook notice posted on March 2. "This matter is currently being investigated by the Parma Police Department and Facebook. This is the Parma Police Department's official Facebook page. The public should disregard any and all information posted on the fake Facebook account. The individual(s) who created this fake account are not employed by the police department in any capacity and were never authorized to post information on behalf of the department."
Despite the implication that people might think cops really were performing abortions in a van or really did plan to promote family togetherness by forcibly confining people to their homes, it is hard to believe anyone mistook the parody for the real thing. "The Facebook page was not reasonably believable as conveying the voice or messages of the City of Parma Police Department," Novak's complaint notes. "Mr. Novak had no intention of deceiving people into believing that the account was actually operated by a representative of the police department, and no reasonable person could conclude such an intent from the content of the page."
Parma police nevertheless launched an investigation that involved at least seven officers, a subpoena and three search warrants, and a raid on Novak's apartment, during which the cops surprised his roommate on the toilet and seized two hard drives, a laptop, two tablets, two cellphones, and two video game systems. After his arrest on March 25, Novak spent four days in jail before he got out on bail, and then he had to report weekly to a probation officer if he wanted to keep his freedom.
Explaining the justification for Novak's arrest, Lt. Kevin Riley, a department spokesman and one of the officers named in the lawsuit, said "the material that Novak posted on the fake account crossed the line from satire to an actual risk to public safety." How so? Riley complained that "Novak posted derogatory and inflammatory information that purported to be from the Parma Police Department." The cops knew it was inflammatory because people had posted negative comments about the department on the parody page, including "Fuck the Parma Police."
It was obvious how Novak had offended the police but not so clear how he had disrupted police services. Even after settling on that charge, Novak's lawsuit notes, the cops had no "supportive evidence or facts that any of the functions of the Parma Police Department had been disrupted or that Mr. Novak intended his Facebook page to in fact disrupt any function of the Parma Police Department." When they applied for a search warrant demanding that Facebook surrender the records associated with the parody page, the cops "failed to mention any function or service that Mr. Novak purportedly disrupted." The post-arrest press release likewise "mentioned nothing about any police function that Mr. Novak intentionally disrupted through the exercise of his constitutional rights."
Someone in the Cuyahoga County Prosecutor's Office evidently had second thoughts about the case, because Novak was offered a plea deal under which the felony charge would have been reduced to an unspecified misdemeanor. Novak turned the offer down, by that point eager to have his day in court. By the time his trial rolled around, prosecutors had settled on the theory that Novak's Facebook gag had disrupted police services by generating phone calls to the police department—a grand total of 10 in 12 hours. The jury did not buy it, and everyone who was involved in the case should have known better than to let it get that far.
To this day Riley maintains that "we were just doing our job." Which is true, if you assume a cop's job includes hunting down online speech that offends him, making sure it is scrubbed from the internet, and trying to imprison the people responsible for it.