Cincinnati Streetcar Is Exactly the Spectacular Shitshow Everyone Expected It To Be
Bomb threats, broken ticket kiosks, and contract disputes with streetcar managers have plagued Cincinnati Bell Connector's opening week.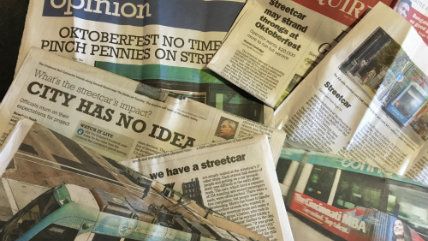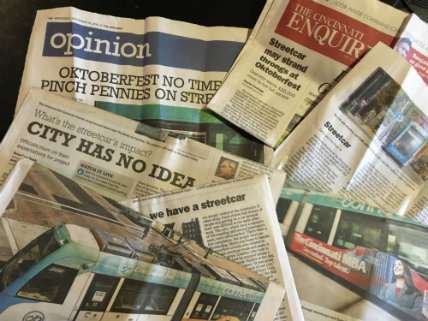 Cincinnati's long-time-coming and controversial streetcar line officially launched last Friday, and it's already been plagued by problems and bad omens. First, a car was nonoperational on opening day. Then, a bomb threat forced the line's shutdown. And this week, the streetcar manager demanded an extra $20,000 from the city if it wants more than two cars to run during Cincy's huge annual Oktoberfest festival this weekend.
That running extra cars during extra-busy periods should prove an issue is especially damning for the streetcar, which is opposed by Cincinnati's mayor (along with much of the local business community) and was panned by Ohio Gov. John Kasich. If the streetcar is ever to be profitable, or at least cover its own operating costs, it should be on one of the rare nights of the year when Cincinnati residents are actually flocking en masse downtown. But apparently even this is too much to ask.
During most times, it's unclear who exactly the streecar—which covers a scant 3.6 square-mile portion of downtown—is meant to serve. The 18-stop route now connects areas where downtown residents and employees can either easily walk or bus or have little reason to travel between, and where visitors from the suburbs (who will already have to drive in) can find ample parking. The route was initially supposed to expand uphill toward the University of Cincinnati campus, but that plan was scrapped after Kasich pulled state funding.
With the original route, Cincinnati had originally estimated a building and prep cost of $110 million. The project was to be completed in three years. Nine years later, the ultimately much smaller route wound up costing the city $148 million, of which around $45 million came in the form of grants from the federal government.
Going forward, Cincinnati will pay the Southwest Ohio Regional Transit Authority (SORTA) a base rate of $4.2 million per year to manage the streetcar, which is operated and maintained by French company Transdev. Ramping up service during special events will cost extra—something city officials were surprised to learn earlier this week, when SORTA demanded an additional $20,000 to operate five cars, instead of the usual two, during Oktoberfest this weekend.
SORTA said its contract stipulated that it would run extra cars during special events as needed but that the city must also pay extra in such situations. City Council members said this had not been their understanding.
On Wednesday, City Manager Harry Black announced that a compromise had been reached that would not incur "any additional cost to taxpayers." But it still involves SORTA getting extra funds from the city to run an additional two (but not all five) cars this weekend. The city plans to give SORTA $7,000 in money that was leftover from its streetcar-opening budget. Advertising Vehicles, the company that sold ads on and in the streetcars, will make up any operating expenses not covered by the city money or this weekend's ticket revenue.
Cincinnati Mayor John Cranley said the city still believes that SORTA is contractually obligated to run extra cars on busy weekends, but it will work out this issue at a future time.
SORTA, a taxpayer-funded state agency whichalso runs Hamilton County and Cincinnati bus systems, is facing financial issues independent of the streetcar. The agency projects a $1.3 million budget shortfall this year, amid declines in bus ridership and fare revenue, and has begun firing staff and postponing projects in preparation.
So far, SORTA's management of the streetcar isn't inspiring much confidence in its ability to manage this public-transit option any better. Other problems faced by the streetcar in its first week include credit-card machines not working at some ticket kiosks; a fight over where to put the SORTA sticker logos on cars; and passenger-count sensors failing, leaving SORTA to merely estimate the number of opening-weekend riders.
Cincinnati officials have offered little in the way of estimated economic impact from the streetcar, which is officially called the Cincinnati Bell Connector. According to the Cincinnati Enquirer, they repeatedly refused requests to talk about property values along the streetcar line, which an Enquirer analysis found had changed little since 2007.
Cincinnati's streetcar experience is looking sadly similar to streetcar boondoggles other cities—including Atlanta and Washington, D.C.—have seen recently. The Obama administration has given more than $500 million in federal money to streetcar projects over the past eight years.