Chicago's Awful Crackdown on Food Trucks
A pair of orchestrated hit pieces from media outlets has spurred the city to hand out massive fines.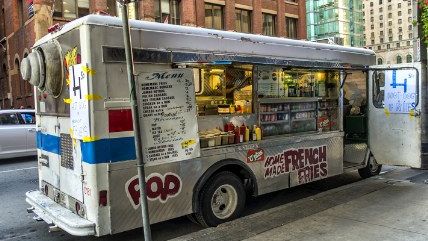 (Michel Bussieres / Dreamstime.com)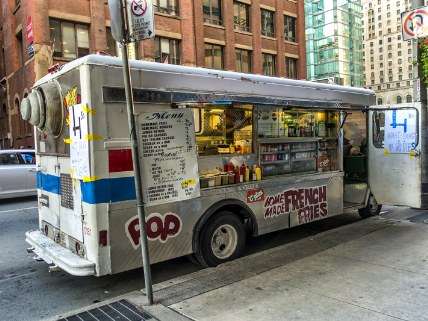 Late last month, the Chicago Sun-Times and the Windy City's local ABC affiliate teamed up to produce what amounts to little more than a hit piece targeting the city's food trucks.
The joint reporting (if that's the right term) alleges that the city's food trucks have been ignoring rules Chicago drafted several years ago to regulate the city's mobile-food vending businesses. The Sun-Times and an ABC 7 I-Team Investigation both allege the trucks are parking where they shouldn't and overstaying maximum times at parking meters.
Some of the allegations may be true. Even if they are, though, it's the city's downright awful rules for regulating those trucks that are to blame here. Full stop.
Just how bad are the rules? In a 2012 column, I referred to them as "disgusting" and "nefarious" and noted they carry harsh fines of up to $2,000.
"Food trucks are severely limited in where and how long they can serve customers," wrote Diana Sroka Rickert, in a great Chicago Tribune column this week that pointed out many of the ordinance's glaring flaws. "The trucks cannot be within 200 feet of brick-and-mortar restaurants, and they're not allowed to stay in the same location longer than two hours."
And, notes Rickert, "these rules should never have become law in the first place."
There's another side, of course, and it's no surprise that the Illinois Restaurant Association, whose members are protected from competition by the law, "supports the crackdown," reports CBS Chicago.
The restaurant association claims that it "supports food trucks and was pleased to work with both the Mayor's Office and Chicago's aldermen to ensure that all parties' best interests were represented in the current ordinance." Notably, the restaurant association statement fails to include mention of, say, maybe working with the food trucks themselves, who are after all the key party here, and whose interests the Chicago ordinance flatly fails to take into account.
In November 2012, shortly after the ordinance's passage, the nonprofit Institute for Justice sued Chicago on behalf of a city food truck owner. The suit rightly argues that the city's food truck rules are unconstitutional.
A 1960 Illinois Supreme Court decision, Chicago Title & Trust Co. v. Village of Lombard, struck down as unconstitutional an ordinance that prohibited new gas stations from operating within 650 feet of existing ones.
The court—in a ruling so on-point it hurts—found no such basis existed under rules that served only to protect existing filling stations from competition from new entrants and that failed to have any basis in protecting the health, safety, or welfare of residents.
"Under the police power of the State new burdens may be imposed upon property and new restrictions placed upon its use when the public welfare demands it," the state's high court ruled in Chicago Title & Trust. "The police power is, however, limited to enactments having reference to the public health, safety, comfort and welfare."
"Chicago's food truck rules are some of the worst in the nation," IJ's Robert Frommer, the lead attorney in the case challenging Chicago's rules, told me this week. "They exist not to protect public safety but the bottom line of a few well connected businesses."
A judge is set to hear oral arguments on cross-motions for summary judgment in the food-truck case next month.
Soon after the Sun-Times and ABC7 reports, at the behest of Mayor Rahm Emanuel, the city began handing out $1,000 tickets to food truck operators. The mayor, wrote the author of the Sun-Times article in a follow-up piece, "promise[d] to do what his own administration has failed to do: Issue a blitzkrieg of citations and fines against food truck owners caught thumbing their noses at the city's much-ballyhooed ordinance."
Blitzkriegs and ballyhoos reminds me of a fantastic Echo & the Bunnymen song. But it doesn't make the Chicago ordinance any less awful, or any less unconstitutional.
In speaking with him this week, IJ's Frommer noted something I have as well, namely "that the size of Chicago's food truck industry is dwarfed by those in cities with good laws."
Consider that Chicago, a city that boasts more than 2.7 million residents, has an estimated 60-70 mobile food trucks. That's roughly one food truck for every 42,000 residents.
Washington, D.C., by contrast, has around 660,000 residents. But the District, which updated its food truck rules with better ones several years ago, has more than 100 food trucks, according to DC Food Truck Association membership data. That translates to roughly one truck for every 6,600 residents, or nearly seven times more food trucks per capita than you'll find in Chicago today.
That wasn't supposed to be the case under Chicago's rules. Mayor Emanuel, who co-sponsored the 2012 ordinance, said at the time the law would help Chicago to "finally move forward as a city."
Yet today there are roughly half the number of food trucks on the road in Chicago as there were operating when the ordinance became law.
Instead of moving Chicago forward, under Emanuel's leadership food trucks—and the city itself—seem stuck in reverse.