GOP Aide Urges Republicans to Oppose Criminal Justice Reform Because 'Drug Trafficking is a Violent Crime'
As votes loom on a package of criminal justice reform bills in the House, the old "tough-on-crime" canards are being trotted out again.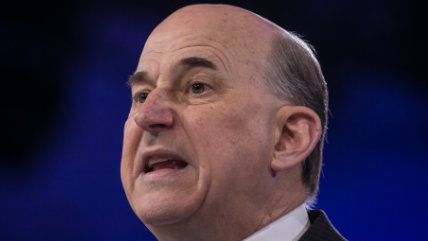 (Jeff Malet Photography/Newscom)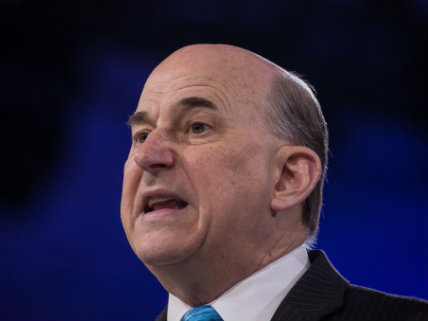 Republican opponents of criminal justice reform legislation in Congress are invoking the rising violence in some major cities, as well as the supposed dangers of releasing drug traffickers, to derail efforts to overhaul federal sentencing laws expected to come up for a vote this month in the House.
A recent email obtained by Reason from a legislative aide to Rep. Louie Gohmert, a staunch Texas conservative, called on Gohmert's fellow lawmakers to reject a package of criminal justice reform bills in the House that would, among other things, roll back some federal mandatory minimum sentencing guidelines.
"It is well established that drug trafficking is a violent crime, for two different reasons: First, because drug dealing always creates victims—the users, especially those who become addicted to these poisons," the Aug. 31 email reads. "Second, drug trafficking is an inherently violent industry because drug dealers can't go to court to enforce drug debts, can't rely on police to protect their drug territory or shipping routes, and can't expand their business without violent clashes with rival traffickers and gangs."
The email mirrors rhetoric from the National Association of Assistant U.S. Attorneys (NAAUSA), a group of prosecutors that has opposed sentencing reform efforts. A NAAUSA PowerPoint presentation was attached to the aide's email, purporting to show the dangers of releasing "violent" drug felons, how the rise in incarceration resulted in lower crime rates, and how rolling back mandatory minimums will reduce suspects' incentive to cooperate with prosecutors.
(As The New York Times reported last month, jury trials at the federal level are increasingly rare because of prosecutors' success in pushing defendants into plea deals, thanks in large part to the threat of a lengthy mandatory minimum sentence.)
September is likely the last chance for criminal justice reform advocates to get a major bill passed this year, and they began a final push late last week to sway on-the-fence lawmakers and fight back against the rhetoric of groups like the NAAUSA.
Former Attorney General Michael Mukasey and 42 other former prosecutors and law enforcement officials sent a letter Thursday to House leadership supporting the reform bills, saying that the legislative proposals "make modest, reasonable changes to the sentencing regime" that "will only improve the current regime—by amending just a few sentencing policies that produced unintended consequences and created imbalance in the scales of justice."
An aide to House Speaker Paul Ryan confirmed that Ryan recently met with criminal justice reform advocates as well. Ryan pledged earlier this year to give floor time to a package of criminal justice bills being passed through the House Judiciary Committee. Many of those bills are similar to provisions in a larger Senate bill, the revised Sentencing Reform and Corrections Act, which would expand so-called "safety valve" provisions that give judges discretion to impose lesser sentences than federal mandatory minimum guidelines. It would also eliminate mandatory life sentences for three-time, nonviolent drug offenders and make sentencing reductions for crack cocaine offenses—passed by Congress in 2010—apply retroactively, allowing some 5,800 federal prisoners to apply for reduced sentences.
The Senate bill, however, has languished since the beginning of the year, despite key compromises in April that eliminated some reductions in mandatory minimum sentences for firearm crimes and added new mandatory minimums for fentanyl offenses and interstate domestic abuse.
The libertarian-leaning advocacy group FreedomWorks, along with the evangelical Faith & Freedom Coalition, announced Thursday they will be scoring votes on three criminal justice bills, provided they aren't significantly changed, that are expected to come to the House floor this month: the Sentencing Reform Act, the Recidivism Risk Reduction Act, and the Criminal Code Improvement Act.
"Families and communities are the cornerstone of our nation, and our current justice system is tearing them apart," Faith & Freedom Coalition Executive Director Tim Head said in a statement. "Ninety-five percent of all incarcerated individuals eventually will re-enter society, and these bills will ensure that they have the resources they need to be productive citizens and avoid future pitfalls."
FreedomWorks and the Faith & Freedom both are part of the Coalition for Public Safety, a nonprofit umbrella organization that also includes the ACLU, NAACP, Americans for Tax Reform, and the Center for American Progress.
The coalition will also release polling later this month from battleground states gauging public support for criminal justice reform proposals. Holly Harris, executive director of the U.S. Justice Action Network, the coalition's advocacy arm, said the aim is to persuade on-the-fence lawmakers, such as New Hampshire GOP Sen. Kelly Ayotte, and show them that "this not only makes for good governance but also good politics."
"I've never met a politician who didn't love a poll," Harris said.
In the meantime, the conservative criminal justice reform group Right on Crime held a briefing yesterday on Capitol Hill with state officials from red states that have instituted significant overhauls of their criminal justice systems.
"Conservative governors and state legislatures have led the charge and proved these reforms effective," FreedomWorks CEO Adam Brandon said in a statement. "States like Texas, Georgia, and South Carolina have taken the lead to implement policies that have cut incarceration rates, reduced recidivism, restored families, saved taxpayers money and preserved public safety. It's time for Congress to follow the lead of the states and move on reform measures."
FreedomWorks held a Facebook Live event with Sen. Mike Lee, one of the biggest Republican supporters of sentencing reforms, Thursday night to talk about the proposed bills.
Republican Senate majority leader Mitch McConnell is reportedly waiting on the House to pass its bills before he decides whether to bring the Senate version to a floor vote before a divided Republican caucus.
Harris said that, even if the House package passes, she doesn't expect the Senate to take up a bill—if it does at all—until the lame duck session after the election.
"I'm not sure what else we can do at this point," Harris said. "If a bill doesn't get across the finish line, it will be because of things outside our control, and it will be a great indictment of Washington."