Hillary Clinton Has Pneumonia, French Authorities Charge Woman With ISIS Plot, Secession Protests in Spain: A.M. Links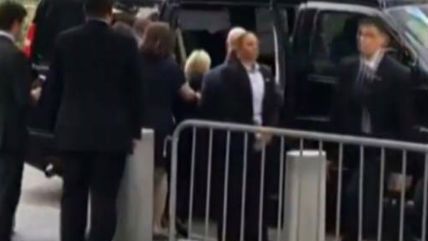 Zdenek Gazda/Twitter

After Hillary Clinton left a 9/11 event in New York City early, her doctors said she has pneumonia. Donald Trump mostly stayed out of the news cycle while attending the same event. Jill Stein says she wouldn't have had Osama bin Laden killed. Gary Johnson needs to average 25 percent in the next two polls to qualify for the presidential debates.

The children of Martin Luther King, Jr. have prevented any artifacts that belonged to the civil rights leader from being displayed in the Smithsonian's new National Museum of African-American History and Culture.
Authorities in France charged a woman with allegedly plotting an ISIS attack on the Notre Dame cathedral.
A blogger in Russia was arrested for inciting hatred and offending religious sensibilities after playing Pokemon in a church.
Hundreds of thousands of protesters demonstrated in Spain in favor of Catalan independence.
At least 11 people are dead after a magnitude 5.9 earthquake in Tanzania.
Several NFL players from teams all over the league joined Colin Kaepernick in taking a knee during the national anthem yesterday.