When Medicine Serves the Police: A Cautionary Tale from Burning Man
Last year a woman went into respiratory failure when a medic shot her with ketamine to help cops subdue her.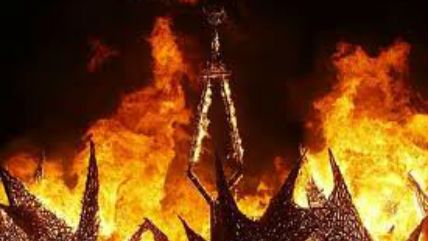 The Burning Man festival, that week long experiment in temporary art-centered community in Nevada's difficult Black Rock desert, is in full swing as of yesterday. (And my book about the event's history and culture, in a conveniently updated 10th anniversary e-book edition, is for sale for $4.99 for your Kindle.)
A series of documents made public recently document a grim incident from the event last year that spotlights the crummy things that can happen when medical care is mixed with law enforcement.
In a letter in my possession sent in May by the state's Division of Public and Behavioral Health, a medic who worked the event last year was put on warning for, as the letter stated, administering ketamine (a powerful tranquilizer that is also sometimes used recreationally) unasked for to a Burning Man attendee "as necessary for the overall safety of law enforcement officials who were in contact with the attendee." (The state later rescinded the warning, on the stated grounds that their investigation had happened too late after the actual event being investigated, though the letter rescinding the warning said nothing to suggest the event she was originally warned for had not happened.)
In a letter sent earlier this month from Harley Dubois, a member of Burning Man's board of directors, to Mel Hummel, president of the board of trustees of Humboldt General Hospital who supplied the medic in question, she noted the woman shot with the ketamine was 110 pounds, had been drinking alcohol, and as a result of the ketamine injection the woman "went into respiratory failure—twice—and nearly died."
The Reno Gazette-Journal reported on the incident in the context of wranglings between Burning Man, Humboldt General Hospital, and law enforcement last week over how to set and obey protocols for medical issues at Burning Man moving forward. The medic injected the ketamine "while serving as a special reserve deputy under Pershing County Sheriff's Office, according to contracts with the Pershing County Sheriff's Office," reported the Gazette-Journal.
Like ketamine and alcohol, medical care and police work can be a very dangerous combination. See my previous reporting on hospitals who decide to conduct unasked for anal probes to help cops search for drugs, and then bill the unwilling "patient"/victim.
My 2000 Reason cover story on the event's fractious relationship with government authorities. My reporting from last year on the fruitless and aggravating practice of the Bureau of Land Management law enforcement running mail sent to Burning Man by drug dogs.