Court Finds 'Substantial Evidence' Orange County DA Retaliated Against Judge Who Exposed Misconduct
Despite calling it an "extraordinary abuse," a California appeals court upheld the Orange County D.A.'s tactic of disqualifying a judge from cases.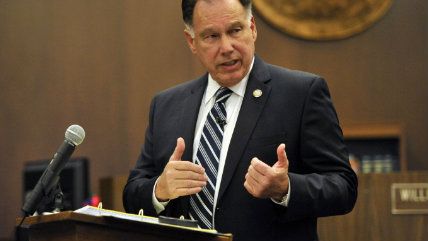 (Joshua Sudock/ZUMA Press/Newscom)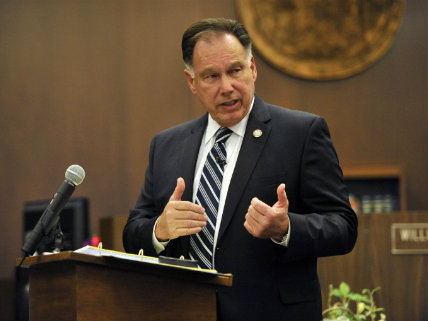 A California appeals court ruled Monday that the Orange County District Attorney's Office's tactic of repeatedly disqualifying a judge who exposed prosecutorial misconduct from cses is an "extraordinary abuse" of state law, but still legal.
The California Fourth Circuit Court of Appeals ruled that the OCDA operated within the law when it repeatedly had Superior Court Judge Thomas Goethals removed from cases because of perceived bias—a retaliatory tactic known as "papering" a judge—but said the state supreme court precedent it was bound by should be revisited.
"As courts work to keep doors open and to provide timely and meaningful access to justice to the public, the extraordinary abuse of [judicial disqualification] is a barrier to justice and its cost to a court should be reconsidered," Justice Kathleen O'Leary wrote in the majority opinion.
Prosecutors from the OCDA first began allegedly papering Goethals in 2014, when he was presiding over the capital murder case of Scott Dekraai. In several lengthy motions that Goethals allowed to move forward, the public defender in the case revealed that the OCDA and Orange County Sheriff's Department had been operating a secret jailhouse informant program. In 2015, Goethals removed the entire OCDA from the case, finding that two sheriff's deputies had either lied or intentionally withheld evidence from the court.
As the appeals court noted in its Monday ruling, Goethals had only been disqualified from a murder trial once in the three years prior. However, in the 18 months after the Dekraai case blew up, Goethals was disqualified from 46 out of 49 murder cases he was assigned.
In a concurring opinion, Justice Richard Aronson said "the district attorney engaged in blanket papering of Judge Goethals and did so to retaliate and punish a widely respected and experienced jurist the district attorney previously accepted on a routine basis."
The OCDA brought the appeal after another superior court judge denied its challenge to remove Goethals from a case, arguing the repeated disqualifications were retaliatory and significantly increasing the caseload of other courts.
In a statement released Monday, Orange County District Attorney Tony Rackauckas said that, while he agrees with the ruling, he "maintains that there has never been 'blanket papering' of any judicial officer. Any exercise of preemptory challenge made by any member of the OCDA has been the individual prosecutor's decision to do what is in the best interest of the People, public safety, and crime victims."
The fallout from the Dekraai case has led to sentences being overturned or vacated, or charges being dropped, in nearly a dozen other cases so far. Scott Sanders, the public defender in the Dekraai case, says the OCDA and sheriff's department operated the jailhouse informant database for decades, and it could have tainted numerous other cases.
"The idea that a prosecutor's office has in essence elected to punish a judge for calling out its misconduct is profoundly concerning—so much so that a court was willing to suggest the law should be changed," Laura Fernandez, a Yale research scholar who studies prosecutorial misconduct, said. "When prosecutors engage in these kinds of extraordinarily abusive tactics, it undermines the integrity of the criminal justice system as a whole."
---