Woman Kidnapped and Sexually Assaulted by Drug Warriors Gets $1.6 Million
After a dog supposedly alerted to her at a border crossing, she endured six hours of fruitless body cavity searches.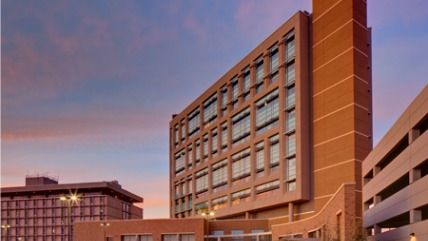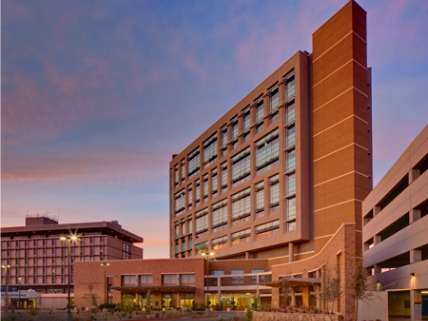 The federal government will pay $475,000 to settle a lawsuit brought by a New Mexico woman who in 2012 was subjected to six hours of degrading and fruitless body cavity searches based on a purported alert by a drug-sniffing dog at the Cordova Bridge border crossing in El Paso. The woman, identified as Jane Doe in the lawsuit, had already reached a $1.1 million settlement with the the University Medical Center of El Paso, where Customs and Border Patrol (CBP) agents took her after their searches near the bridge found nothing, and the emergency room physicians who sexually assaulted her at their behest.
In addition to a pat-down and strip search at the crossing, Doe endured "an observed bowel movement, X-ray, speculum exam, rectal exam, vaginal exam, and a CT scan." She repeatedly made it clear that she had not consented to these indignities and refused to sign a form saying she had. "After the CT scan," the lawsuit says, "a CBP agent presented Ms. Doe with a choice: she could either sign a medical consent form, despite the fact that she had not consented, in which case CBP would pay for the cost of the searches; or if she refused to sign the consent form, she would be billed for the cost of the searches." The upshot: The hospital billed her $5,000 for its services. 
Ultimately the hospital got stuck with a bill more than 200 times as big, while CBP agreed to pay almost 100 times as much as it tried to charge Doe for the privilege of being kidnapped and violated (although that money will, sadly, come out of taxpayers' pockets). Coincidentally, the total amount, about $1.6 million, is what David Eckert, another victim of a dog-authorized sexual assault, got from the city of Deming, New Mexico, in 2014. In addition to paying Doe, the CBP agreed to better train its agents so they no longer consider this sort of thing part of their job description. Commenting on the settlement, CBP spokesman Daniel Hetlage assures us that the agency "has policies, procedures and training in place to ensure officers and agents treat travelers and those in custody with professionalism and courtesy, while protecting the civil rights, civil liberties, and well-being of every individual with whom we interact."
"This settlement is one of the largest of its kind ever reached over violations involving an individual search," says the ACLU of Texas, which brought the lawsuit together with the ACLU of New Mexico. Last week those two organizations, joined by ACLU affiliates in Arizona and California, sent letters to 40 health care providers that run facilities near the border, warning them of their legal exposure if they participate in the war on drugs as enthusiastically as the doctors at University Medical Center, which as part of its settlement agreed never to conduct searches like those endured by Doe without a warrant. The letter explains that a warrant is required in such situations by CBP policy as well as the Fourth Amendment:
Searches that intrude on a person's body require a high degree of justification, even at the border….Except in very rare instances, government searches that intrude into the human body require a warrant because "[s]uch an invasion of bodily integrity implicates an individual's 'most personal and deep-rooted expectations of privacy.'" The protections guaranteed by the Fourth Amendment extend to searches conducted by medical personnel who are acting at the request or direction of law enforcement officers….

Your staff should know that CBP agents have no authority to compel healthcare professionals to assist in law enforcement searches. CBP policy absolutely forbids CBP officers from pressuring, cajoling, or otherwise requesting medical personnel to conduct medical examinations of individuals under their custody….

Even if CBP personnel insist that a person in their custody may be concealing contraband such as illegal drugs, healthcare professionals are under no obligation to comply with a request to conduct a search. Even for persons in CBP custody, the healthcare professional retains the obligation to ensure that body cavity searches, X-rays, CT scans or similar procedures are for legitimate medical reasons and to adhere to the patient consent requirements appropriate for that procedure….

Medical personnel should know that CBP's own policy expressly requires officers to obtain a search warrant to authorize highly invasive searches, such as body cavity searches and medical X-rays….

CBP defines a body cavity search as "any visual or physical intrusion into the rectal or vaginal cavity." Only medical personnel may conduct a body cavity search, as CBP officers are strictly prohibited from doing so per the Handbook. CBP policy provides that body cavity searches are reserved for "the most exceptional circumstances." As such, these highly invasive searches are not permitted unless the patient gives her free and voluntary consent or the agent obtains a search warrant from a judge.
The need for such guidance is depressing but undeniable. "When Ms. Doe expressed dismay about the unreasonable searches she suffered," her complaint says, "a Medical Center employee responded that these procedures were routinely followed when an individual is brought in by CBP agents. The employee also told Ms. Doe that what happened to her was not invasive."