Sanders Booed for Endorsing Clinton, Trump Gets Poll Boost, Verizon Buying Yahoo: P.M. Links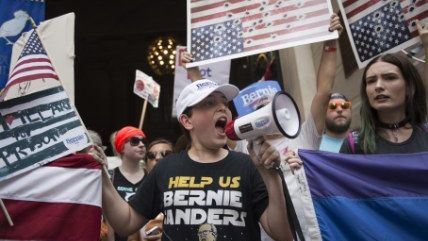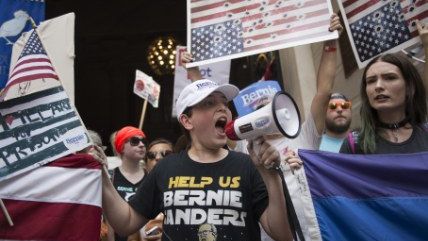 (Tracie Van Auken/EPA/Newscom)
Tracie Van Auken/EPA/Newscom

In a rally with his delegates in Philadelphia, Bernie Sanders encouraged them to vote for Hillary Clinton. They booed him.

The FBI will be investigating who hacked the Democratic National Committee and provided thousands of internal emails to Wikileaks.
Donald Trump has received a decent post-convention poll bounce, now leading Clinton in a poll released today.
The Turkish government, having survived the coup attempt, is now cracking down on journalists.
Verizon is buying most of Yahoo for $4.8 billion. Verizon purchased AOL last year for $4.4 billion.
A college football player says he was stopped by police in Iowa while playing Pokemon Go and had guns pointed at him because he matched the description of a man suspected of robbing a nearby bank.
The political circus of the Republican National Convention and now the Democratic National Convention has distracted us all from some much more important news: namely, what sort of cool movie trailers were shown for the first time at the San Diego Comic Convention. See them aggregated here.
Follow us on Facebook and Twitter, and don't forget to sign up for Reason's daily updates for more content.