Post-RNC, Gary Johnson Sees Big Spike in Online Interest
Libertarian candidate now getting more Google searches than in 2012.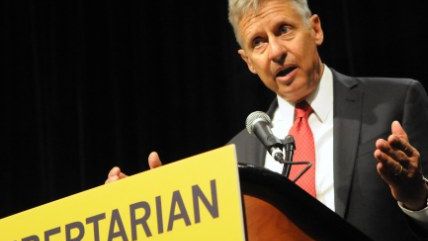 (Paul Hennessy/Polaris/Newscom)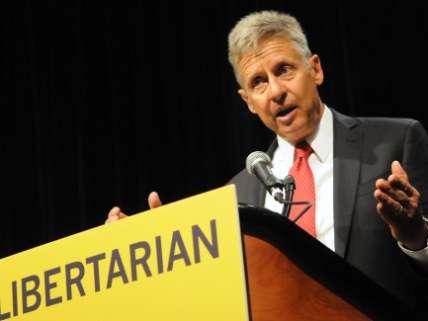 Today's latest CNN/ORC poll release shows Donald Trump getting a post-convention bounce and taking the lead from Hillary Clinton. This is the case whether or not Libertarian candidate Gary Johnson (getting 9 percent) and Green candidate Jill Stein (3 percent) are included.
Interestingly, despite the warnings from speakers at the Republican National Convention that voting for anybody other than Trump is a vote for Hillary Clinton, Trump's lead actually widens when the third-party candidates are considered. They're three points apart in a head-to-head match-up. They're five points apart in a four-way race. (This probably means we'll hear the same dire warnings all this week that not voting for Hillary Clinton will help Trump win.)
While Johnson still isn't getting high enough poll numbers yet to make the presidential debates (he needs to hit 15 percent), he saw signs of a different sort of convention bounce. It appears that over the course of the RNC, Google interest in searches for him spiked to the point that there's now more people looking for info about Johnson than there ever was prior to the 2012 election. The same holds true for Stein, though to a much lesser degree. Note the far right of the chart below. Interest in Johnson is in blue. Interest in Stein is in red.

Just to explain the graph a little bit more: Google Trends don't provide flat numbers of searches. The graph essentially serves to compare interest using a 0-100 scale over time. Where the chart hits 100 indicates the greatest number of searches. From this comparison, we can see an 18 percentage point increase in Johnson's searches here in July (and it's not over yet!) when compared to November 2012, when he had his last spike.
That's good news for both candidates when it comes to building name recognition. That more people are searching for information about them means more people have obviously learned that they exist. The bad news is that their search interest still absolutely pales against those for Donald Trump and Hillary Clinton. (On the other hand, think of the kind of news stories people find when they search for Trump or Clinton.)
Toward the end of last week Johnson showed up among the top 200 trending searches on Google. He currently is not, but we'll see how the week goes. His numbers from last week showed search interest increasing slowly as the week went on.