China's Rare Earth Minerals Mercantilism Totally Fails: I Told You So Six Years Ago
Wall Street Journal has nice op-ed on China's rare earth bust.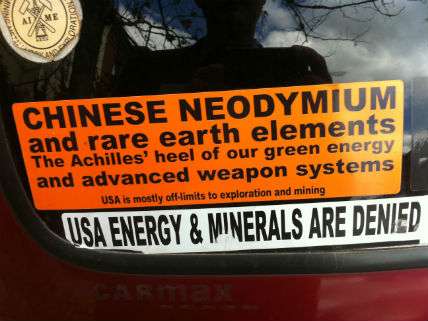 Back in 2010, Chinese central planners believed that they had the world over a barrel because their country was the source of 95 percent of various rare earth minerals used in many modern technologies. The Chinese government imposed limits on the amounts that could be exported with the goal of forcing Western technology companies to move their manufacturing operations to the Middle Kingdom.
As I argued in my column, "Rare Earth Ruckus," back in 2010, this Chinese mercantlist ploy would backfire as entrepreneurs opened rare earth mining operations in nice stable countries like Australia, Malaysia, and Canada. In addition, innovators would develop technologies that did not depend upon the minerals that China was trying to cartelize. Of course, some American politicians panicked and introduced legislation offering federal loan guarantees to companies to develop rare earth supplies in the United States (as though higher prices wouldn't incentivize that). I concluded:
In the end, new supplies and innovation will ensure that the future of the world's high tech economy will not depend upon the whims of the mercantilist mandarins who steer Chinese industrial and trade policy.
And so it has come to pass. A nice Wall Street Journal op-ed, "China's Rare-Earths Bust," confirms my prediction. For example, the op-ed notes that Honda is introducing a hybrid car engine that does not depend upon magnets made using rare earth minerals and which is 10 percent cheaper and 8 percent lighter. From the op-ed:
Beijing's mercantilist gambit had predictable effects—predictable, at least, for anyone familiar with the work of Julian Simon. The economist taught that fears over natural-resource scarcity often underestimate the flexibility of markets and the ingenuity of the human brain, which Simon called the ultimate resource. Those who warned about "peak oil" were blindsided by fracking, and rare-earth doomsayers failed to foresee how Beijing's supply squeeze would spur overseas investment in new supplies and substitutes.

VanEck Vectors Rare Earths ETF Stock Prices
Just last year, I participated in a Cato Unbound debate on this issue with economist Dambisa Moyo, author of Winner Take All: China and Global Race for Resources. I don't know where she learned her economics, but it's clear that Moyo simply doesn't know what she is talking about. As I argued:
Moyo would do well to advise China's leaders to stop their economically ignorant pursuit of resource nationalism. … The Party leaders evidently are still in thrall to the failed ideology of economic central planning and the ultimate results of those policies will not be pretty.
That's still true.
H/T David Ridgely.