Trump Will Save Us From Everything Bad, THC in Colorado Water, Pokemon Go Is Watching You: A.M. Links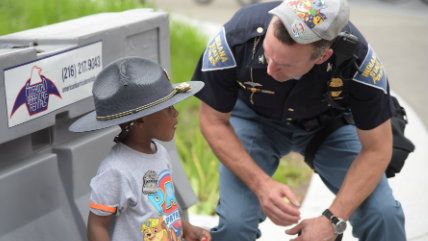 (Andy Katz/ZUMA Press/Newscom)
Andy Katz/ZUMA Press/Newscom

In a speech that ran over 70 minutes, Donald Trump accepted the Republican Party's presidential nomination Thursday night, bashed free trade, and warned that we are in a "moment of crisis" from which he alone can save us. 

Despite the dire tone of Trump's

terror dream

speech, the scene on the streets of cop- and activist-overrun Cleveland throughout the week was overwhelmingly peaceful and jovial. 
Ivanka Trump spent her convention speech trying to convince America that her father isn't sexist, borrowing liberal talking points about the gender wage gap, and explaining that her father would make "quality childcare accessible to all." 
Utah delegates to the GOP convention told Reason they felt "disenfranchised from the Republican Party" and may vote for Gary Johnson in November. 
"If the GOP was serious about changing its slow march to irrelevance, there should have been 10 [Peter] Thiel's to every Joe Arpaio, rather than the other way around."
Director Oliver Stone warns that Pokemon Go is a form of "surveillance capitalism" that will lead to "a robot society" and then "totalitarianism." 
Don't drink the water in Hugo, Colorado, if you've got a drug test coming up.
Follow us on Facebook and Twitter, and don't forget to sign up for Reason's daily updates for more content.