N.C. Exempts Police Recordings from Public Records Laws
Way to read the room, guys.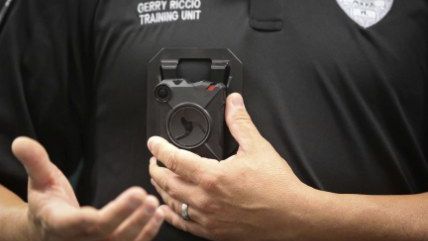 (Bruce R. Bennett/ZUMA Press/Newscom)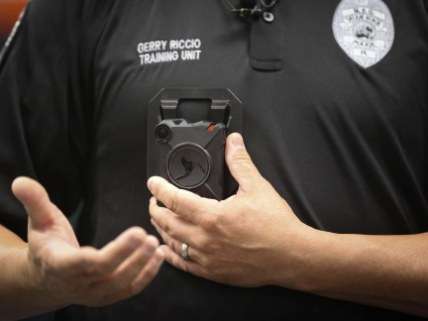 North Carolina has just passed, and Gov. Pat McCrory has signed, legislation that would declare that police recordings—both body camera and dash cam footage—are not public records under state law and would follow a different set of disclosure rules.
All of this is happening at a time where citizens are hungry for police actions to be more transparent and accountable to the public so that abuse can be fought against. Instead, North Carolina is using their concerns over the potential privacy over those who are being filmed to significantly curtail the ability for citizens to see what is happening in police recordings.
There's two major components to HB 972: when people may view these recordings and when the recordings may be publicly released.
For disclosures—who may watch a recording—the law requires the viewer to be a person in the recording or a representative for a person in the recording (and they cannot record or copy the video). Even then, police have wide discretion to decide how much of a recording to allow somebody to watch or to decide it contains "highly sensitive" material and reject the request. The person can then appeal to the courts, and a judge can overrule them if the judge determines the police abused their discretion.
A judge will also be the person deciding whether police footage will be publicly released. The law enforcement agencies cannot decide for themselves to release footage.  And in order to get a court order to get footage released, the requester needs to have a sense of actually what they're looking for and what time it takes place in the video footage. That is to say, you have to already know what's in the video and where in order to request having it released.
The state has been attempting to spin the law as a good thing because it also prohibits the footage from being kept confidential in a police officer's personnel file, and therefore completely hidden. But that's cold comfort when the process to gain transparency is dependent on the mercy and cooperation of the police themselves and judges.
The North Carolina chapter of the American Civil Liberties Union (ACLU) is not happy:
"Body cameras should be a tool to make law enforcement more transparent and accountable to the communities they serve, but this shameful law will make it nearly impossible to achieve those goals," said Susanna Birdsong, Policy Counsel for the ACLU of North Carolina. "People who are filmed by police body cameras should not have to spend time and money to go to court in order to see that footage. These barriers are significant and we expect them to drastically reduce any potential this technology had to make law enforcement more accountable to community members."
There is some good news in the bill, though it's completely unrelated to police footage access. HB 972 also authorizes a needle exchange program for the state and access to naloxone kits to help counteract drug overdoses. Actually, that's really good news. A shame it's been attached to this terrible policy that helps give cover to police secrecy.