Video Shows Alton Sterling Shot and Killed by Baton Rouge Police Despite Being Pinned and On His Back
Sterling had been selling CDs outside a supermarket; police had responded to a call that a man matching his description had pointed a gun.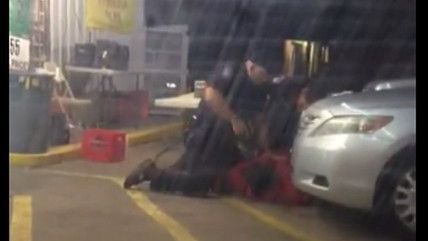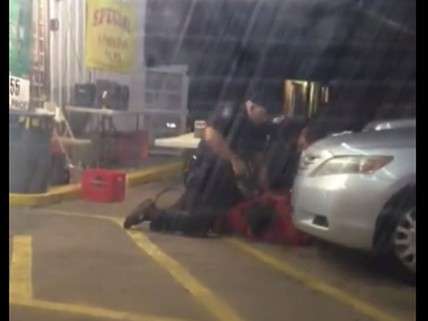 37-year-old Alton Sterling was shot and killed early Tuesday morning after being shot multiple times to the chest, while being pinned to the ground on his back by two Baton Rouge (La.) police officers. 
Police had responded to an anonymous call that a man matching Sterling's description had threatened someone with a gun while standing outside of the Triple S Food Mart. 
Cellphone video shot by a bystander was obtained by The Advocate, which shows an officer tackling Sterling to the ground, followed by another officer forcing Sterling onto his back. One officer screams, "he's got a gun!" and the second officer pulls out his gun and holds it inches away from Sterling's chest.
Then the sound of multiple gunshots is heard. The bystander holding the camera turns away from the incident at this point and a woman can be heard sobbing and screaming "Oh my God!" The entire exchange takes place in less than 30 seconds. 
The body cameras worn by the officers reportedly fell off during the altercation, but apparently police dashcam and store security camera footage of the shooting exists.
Sterling was a father of five, known locally as "the CD man." Triple S Food Mart owner Abdullah Muflahi reportedly gave Sterling his blessing to peddle his wares outside the store. Muflahi told CNN he never saw Sterling get into an altercation with anyone and was not aware of any incident where Sterling had pulled a gun on someone, though he says Sterling recently started carrying a weapon after being mugged.  
The Advocate reports:
"His hand was nowhere (near) his pocket," Muflahi said, adding that Sterling wasn't holding a weapon. After the shooting, an officer reached into Sterling's pocket and retrieved a handgun, Muflahi said.

"They were really aggressive with him from the start," Muflahi said about the officers.

Sterling appeared to die quickly, Muflahi said. Just after the killing, the officer who fired the bullets cursed, and both officers seemed like they were "freaking out," Muflahi said.

The store owner said he heard one of the officers say, "Just leave him."
The two officers have been placed on administrative leave, and Baton Rouge Police Department spokesman Cpl. L'Jean McKneely told The Advocate that "We give officers normally a day or so to go home and think about it" before questioning them after a shooting, adding that the stress can cause "tunnel vision" and produce bad information. McKneely says the officers will likely be interviewed Wednesday morning, though the Louisiana Police Bill of Rights allows officers to delay interrogations for up to 30 days. 
Louisiana is an open carry state, which allows for anyone over the age of 17 and legally permitted to carry a firearm to possess one in public. It's highly unlikely Sterling would have been permitted to carry a weapon, given his extensive rap sheet which included drug, theft, domestic battery, and weapons charges. The New York Daily News reports family members have said Sterling was on probation at the time of his death and had been living at a transitional shelter where he was known as a "a friendly man who stayed clean."
Rep. Cedric Richmond (D-La.), who represents Baton Rouge, has called for a Department of Justice (DOJ) investigation into the shooting.
You can watch video of the shooting below (after the jump), but be warned, it is graphic and disturbing.