Sexual Violence and the State: 15 U.S. Cops in the News for Sex Crimes This Week
Alleged misconduct ranges from paying for sex to forcible rape, extorting sex through threats of arrest, and sex with underage girls.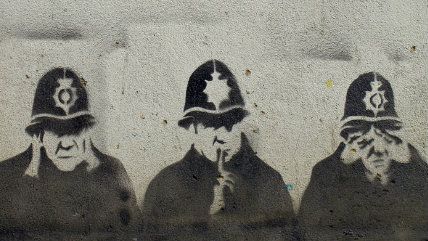 In the past week alone, more than a dozen U.S. cops and criminal-justice officials have made headlines as the subject of sex-crime investigations, indictments, trials, and lawsuits. The alleged misconduct ranges from the merely hypocritical (paying for sex) to the abhorrent—forcible rape, extorting sex through threats of arrest, sex with underage girls, and more.
Seeing news like this week after week, it's hard not to notice that the people we empower to sanction sexual deviance and protect others from sexual abuse are some of the worst perpetrators of sexual violence and exploitation. Sure, these bad actors might just be highly visible outliers; this is a big country with a whole lot of police officers who don't misbehave. But many of these cases coincide with otherwise problematic parts of our criminal justice system—the war on drugs, criminalization of prostitution, erosion of due process, the tendency of police departments and prosecutors to protect their own—and highlight how these flaws make it easier for corrupt cops to harass, intimidate, and abuse people, especially those in the most precarious social positions.
Oakland, California: 'Child Sex Trafficking' Scandal Keeps Expanding
At least five members of the Oakland Police Department (OPD) are accused of paying a teenage runaway for sex. So far, two of the accused Oakland officers have resigned and three are on paid administrative leave. In addition, the Oakland police chief resigned last week, citing personal reasons. This week, the Oakland City Council's Public Safety Committee endorsed a proposal to create an independent commission to take over the investigation, and the Oakland mayor removed interim police Chief Ben Fairow just six days after she appointed him without saying why.
Meanwhile, the allegations have spread to five nearby police agencies and the district attorney's office. The now-18-year-old woman, going by Celeste Guap, said in interviews with media that she had sex with more than two dozen law-enforcement officials from area police departments—some while she was still underage—in exchange for money and tips about planned prostitution stings in the area. Under federal law, paying anyone under 18 for sex is defined as sex trafficking, even if the minor is acting independently. (One needn't condone that definition to expect agents of the law to be guided by it.)
Guap said she started having sex with local cops when she was 17, after meeting OPD Officer Brendan O'Brien. O'Brien, whose wife committed suicide in 2014, took his own life in September 2015.
This week, one officer with the nearby Contra Costa County Sheriff's Office was placed on administrative leave, and the Richmond Police Department said several of its officers are under investigation. The Alameda County Sheriff's Office, meanwhile, said an independent investigation had cleared its accused deputies of any wrongdoing. On Wednesday, an investigator with the Alameda County District Attorney's Office was placed on administrative leave.
Helena, Montana: Confidential Informant Controversy
A former Helena, Montana, police officer faces a civil lawsuit brought by a woman who had been working as a confidential informant for a local drug task force. The woman alleges that Officer Lloyd Thompson initially threatened her with criminal charges and to have her children taken away if she did not have sex with him, and things eventually escalated to physical violence as well. The suit claims Thompson also sexually abused four other female confidential informants working for the drug task force, and that he drank alcohol and used meth while on duty.
Salt River, Arizona: False Arrest
A Salt River police officer was arraigned Tuesday on charges of kidnapping, sexual abuse, unlawful sexual conduct of a peace officer, assault, and tampering with evidence. The officer, Jay Wu, is accused of arresting a woman and then driving her to an alley and sexually assaulting her before letting her go.
Montgomery, Alabama: From Noise Complaint to Sodomy
Montgomery Police officer Deonte Hamner is being held in county jail on first-degree sodomy charges after he allegedly assaulted a man whom he had pulled over for a noise complaint. The Montgomery Police Department (MPD) has initiated disciplinary proceedings against [Hamner] after charging him in connection with the sexual assault of an adult male," MPD said in a statement.
Honolulu, Hawaii: Ongoing Abuse
Honolulu police officer Jessie Laconsay was indicted by a grand jury Wednesday on four counts of first-degree sexual assault and two counts of third-degree sexual assault. He's accused raping a friend's 14-year-old daughter on multiple occasions.
DeKalb, Illinois: Campus Rape
On Thursday, a judge rejected a motion to suppress statements made by former Northern Illinois University (NIU) police officer Andrew Rifkin, allowing the case to proceed to trial. He's accused of sexually assaulting an NIU freshmen in 2011. The case was complicated by a previous court finding that the NIU Police Department had botched evidence in the case, a ruling that led to the firing of NIU Police Chief Donald Grady.
Dorchester, Massachusetts: Probation Pervert
William Averill, a probation officer with the Dorchester Municipal Court, was arraigned Wednesday for rape, indecent assault and battery, and assault with intent to rape. Averill is accused of sexually assaulting a young woman whom he was supervising during her one-year probation sentence for larceny and receiving stolen property.
Killeen, Texas: Official Oppression 
On Wednesday, Killeen Police Officer Christopher R. Morris was indicted by a grand jury on charges of sexual assault and official opression, after a woman accused him of sexually assaulting her in December. Morris was placed on administrative leave through June 6, when detectives concluded there was sufficient evidence to support criminal charges. They sent the case to the Bell County District Attorney for review and Morris was fired.
Miami, Florida: From Sexting to Suicide
Broward County Sheriff's Office Sgt. Kreg Costa, 43, was taken into custody last Thursday and booked on 29 charges, including sexual assault, possession of child pornography, lewd or lascivious conduct, and using a computer to lure a child. The investigation started after colleagues discovered him watching porn at the office, on his work computer. After searching the computer, they found he had been visitng "hardcore pornography" sites and also found sexually-explicit emails, messages, and videos he had exchanged with a 16-year-old girl. On Wednesday, Costa was found dead of a self-inflicted gunshot wound.
Muscatane, Iowa: DUI Diversion
Former Muscatane police officer Tom Tovar was convicted by a jury of sexually assaulting a woman whose boyfriend he arrested for drunk driving.