Gary Johnson Wins Libertarian Nomination
After narrowly missing on first ballot, the 2012 presidential nominee sails through on second; tough VP ballot awaits.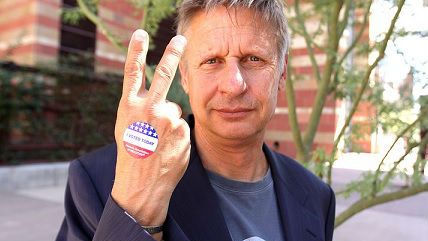 In a decisive rout for pragmatism over purity, the Libertarian Party has nominated former New Mexico governor and 2012 nominee Gary Johnson for president. Johnson came within an eyelash of winning on the first ballot, pulling 49.5 percent of the vote, just short of the required majority. (Libertarian activist Austin Petersen and software magnate John McAfee came in second and third, respectively, with 21.3 percent and 14.1 percent.) With sixth-place finisher Kevin McCormick (and his 0.973 percent of the vote) booted from the second ballot, Johnson sailed through with 55.8 percent.
The nomination comes on the heels of a nationally televised presidential debate in which Johnson was booed several times on questions ranging from the Iranian nuclear deal to the necessity of having a driver's license. Darryl Perry, who was seen as the "Libertarian candidate for the Libertarian nomination," and whose vibe was well represented among the debate audience, received just 6.8 percent and 5.6 percent of the two ballots.
Stay tuned to this space for more coverage! You can also watch the forthcoming vice-presidential vote (which promises to be contentious, and will start at around 2 p.m. ET) on C-SPAN (livestream here), or follow my Twitter feed. Johnson insisted in his victory speech that he needs his pick William Weld to win the VP nomination in order to cross the 15 percent polling threshold, and therefore qualify for the presidential debates. With Weld in the picture, Johnson said at a press conference just now, "I would find it difficult to be excluded from these polls."
My interview with Gary Johnson this weekend: