Bernie Sanders Says He Has a 'Real Problem' With New York Times Coverage, Calls Democratic Primaries a 'Dumb Process'
He's the one with "integrity," or something.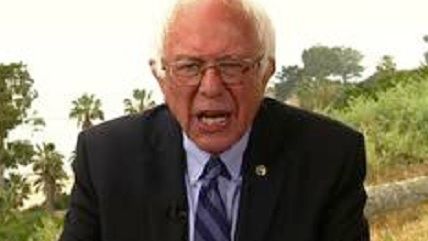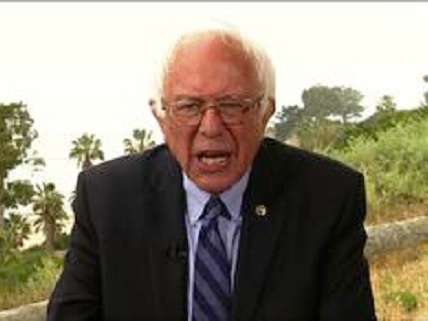 Democratic presidential candidate Bernie Sanders appeared on Meet the Press and Face the Nation this morning, insisting that there was still "just a possibility" his campaign could win more delegates than Hillary Clinton, but rejecting the idea that Clinton's e-mail scandal could sink her. Earlier on ABC's This Week, Sen. Dianne Feinstein (D-Calif.), who defended Clinton in the wake of the inspector general's report, said she didn't "think we should make a federal case out of this" e-mail scandal. The federal investigation continues.
Asked on Meet the Press about supporters who were quoted by The New York Times as "rooting" for a federal indictment of Clinton, Sanders complained that he had "a real problem with the New York Times," which he said was "dismissive" of and negative toward his campaign "from the beginning." He insisted he wanted to focus on "the issues" (a common refrain) but then just rattled off the promises that have littered his campaign.
Sanders also rejected Trump's characterization of the Democratic primary process as "rigged," one shared by his far-left supporters. "I've been very touched by Donald Trump's love for me, but with all due respect, maybe some aspect of this he thinks will advantage himself," Sanders said.
Instead, Sanders insisted the primary process was "really dumb" because of closed primaries, "like in New York State, where three million people who were Democrats or Republicans could not participate."
In other word, the long-time Independent who coalitioned with Democrats but didn't join them until seeking their nomination, dismissed the notion that Democrats should vote in the Democratic primaries and Republicans should vote in the Republican primaries as "dumb." Basic freedom of association. Libertarian delegates will select a presidential and vice presidential candidate in Orlando today. The delegates are party members, and it would be "really dumb" to invite Republicans (who chose Trump) or Democrats (who are still choosing between a crook and a communist) to have a say in the Libertarian nomination.
Sanders insisted he was a better candidate than Clinton not because unlike her he wasn't involved in a federal investigation, but because he could get a higher voter turnout, an argument that mirrors Donald Trump's. He said he would continue to try to convince superdelegates in states that he won to vote for him, while also acknowledging superdelegates that have pledged to vote for him but come from states won by Clinton shouldn't vote for him, specifically mentioning Mississippi, which Clinton won and from where two of his pledged superdelegates are from. About a third of his superdelegates come from states Clinton won, which tend to be more densely populated.