Austin Petersen Catches More Endorsements from the Media Right for His Presidential Campaign
Mary Matalin and Erick Erickson on board for the Libertarian who thinks he can best sell the Party to conservatives.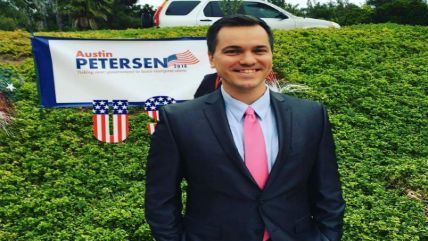 Austin Petersen, former Fox Business Network producer with Judge Andrew Napolitano's Freedom Watch and founder of the Libertarian Republic website, has long been positioning himself as the Libertarians' best choice to capture wayward Republicans who still love freedom and still hate Trump. (Part of it is he's pro-life, part of it is his general image and Missouri farming background and calls upon the Founding Fathers and the Constitution.)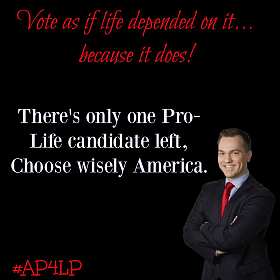 That stance got Petersen two public endorsements from the world of formerly Republican political consultants and media figures this week.
Mary Matalin, longtime GOP consultant and famously part of America's Favorite Cross-Partisan Marriage with Democratic grumpus James Carville, officially left the Republican Party for the Libertarians and now is behind Petersen for the L.P.'s presidential nomination, which will be decided this weekend at the Party's National Convention in Orlando. As Washington Times reports:
"In these tumultuous times of domestic and global uncertainty, the country would be well served with Austin Petersen on the national ballot along with the two established party candidates. The times call for, and Americans deserve, a full-throated, clear, coherent call for the restoration of those principles our founders divined and their progeny refined. Austin Petersen is a courageous adherent of and best represents Jefferson's inviolate first principle: Eternal vigilance is the price of liberty," noted Ms. Matalin on Tuesday.
Petersen tells me that while he did not communicate directly with Matalin, his communications director told him "she agrees with your ideas, likes that you articulate them well to an uninformed populace, and finds your career in spreading these ideas compelling."
Erick Erickson, former chieftain at conservative site Red State and now a right-wing radio guy in Atlanta, who has long been loudly anti-Trump, says that Gary Johnson's pick of William Weld as his running mate shows he is "tone deaf" (Weld has been seen as insufficiently libertarian or even conservative by many) and disqualifies him from serious consideration. He today writes about Petersen:
Petersen has his flaws. He has some views outside the mainstream, but then what Libertarian doesn't? He would certainly be a candidate more likely to be build bridges to disgruntled voters than the perennial candidate Gary Johnson. Johnson, having flamed out in the Republican primary last go round then flamed out as the libertarian nominee. He just keeps running without learning any lessons.

Austin Petersen would be a fresh start and a lot of Republicans would potentially take a fresh look at Petersen. Couple him with a very strong, credible vice presidential candidate and the Libertarians might finally be the third party America needs for disruptive competition.
And while Glenn Beck's people insist it was technically no endorsement, as I reported last week Beck did say to Petersen during a 16-minute segment on Beck's radio show that Petersen is "making my heart skip" and "giving me hope there is someone I can pull the lever for" and is "saying all the right things."