If and When New Hampshire Becomes Its Own Nation, Blame Carla Gericke
Former Free State Project head named president of even-more-out-there group!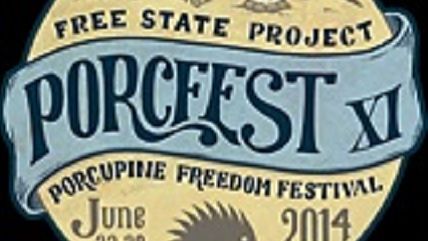 New Hampshire is the "Live Free or Die" state (though it bizarrely has state-owned liquor stores!).
It's home to the Free State Project (FSP), which recently met its 20,000 target number of people pledged to move to New Hampshire and radically shrink the size, scope, and spending of government there. Go here for Reason's voluminous coverage of FSP.
The former head of FSP, Carla Gericke, has just been named president of an even-more-out-there group, The Foundation for New Hampshire Independence. Its mission:
The Foundation for New Hampshire Independence believes that our state's future can be assured only by reclaiming our rightful status as a sovereign and independent nation. We seek to promote New Hampshire's peaceful separation from the United States through educational initiatives and the fostering of conversations between all New Hampshire citizens with an interest in freedom from the Federal government.
From the group's press release:
"Now that the Free State Project is on track to bring thousands of activists to New Hampshire, it is the perfect time for me to shift focus," said Gericke. "I'm excited to help Granite Staters–whether they're 6th generation or new movers–to better understand the benefits of state autonomy. New Hampshire already has a vibrant civic culture founded on the ideals of freedom, independence, and self-reliance. If people embraced autonomy, New Hampshire could be an independent entity–with a population roughly four times size of Iceland–that would continue to trade and interact with neighboring states. Free of the federal government's failing policies and debt, life in New Hampshire would grow even more prosperous."
In February, The Free State Project invited Reason TV up to interview Edward Snowden as part of the group's excellent Liberty Forum. The vid is below and a transcript is here.
And as long as we're talking about all things New Hampshire: On June 19-26, FSP is running its 13th annual Porcupine Freedom Festival, a.k.a. PorcFest, which is a truly phenomenal event (think Burning Man meets FreedomFest meets the Rainbow Gathering meets Bitcoin-Up-The-Yin-Yang). Go here for details on that.