Libertarian Party: Can It Take the Ball and Run?
A roundup of media considering that maybe this is the year for the Libertarian Party to shine, as various candidates fight for its soul.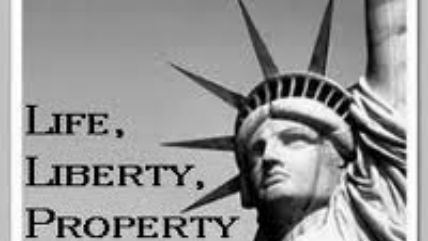 I've been keeping my eye on the L.P. since an Ed Clark TV ad in 1980 scared me (straight!) when I was 12 years old, and am reasonably certain that the amount and nature of press attention to the Libertarian Party in these weeks leading up to its presidential nominating convention in Orlando over Memorial Day weekend is unprecedented, and unprecedentedly willing to consider the possibilities the Party offers an America suffering from Clinton and Trump.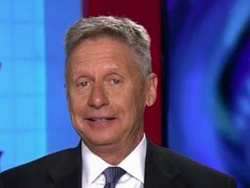 Who is to thank? Doubtless decades of efforts of libertarian journalists and polemicists, cough cough. But also, thank the most nightmarish pair of "real candidates" America has offered since the last time, Donald Trump and Hillary Clinton.
I am as willing as the next libertarian to entertain counter-intuitive takes proposing that Clinton and Trump on some deep level aren't really any more awful than any given candidate ever since the Articles of Confederation were overridden, but the vibe is different now, and Clinton and Trump surely represent to the people who hate them (which is most of us for one reason or another) an apotheosis of what is so awful about their respective parties that is making many people notice that the "system" is failing us, big time.
So, here come the Libertarians and here comes the chatter about the Libertarians. A survey of some of the latest:
• Ex-Reasoner David Weigel at the Washington Post finds incumbent would-be L.P. nominee Gary Johnson a little shocked at how aggravating and nasty the fight to reclaim his throne has been: "It's the most negative race of my career, by far," Johnson told Weigel.
Here's what Weigel got out of Johnson's most prominent competitors, antivirus maven and international man of mystery John McAfee, and "freedom ninja" Austin Petersen:
"I like Gary Johnson as a person," said McAfee in a phone interview from his well-guarded Tennessee home. "I do not see how his lackluster personality can help the Libertarian Party any more than it already has."

"Governor Johnson gets most of his money from special interests and the marijuana industry," said Petersen, as he drove to western Pennsylvania for a fundraiser. "I'm trying to create a grown-up movement."
McAfee added later that Libertarians are foolish to go for the apparent value of "experienced executive" that Johnson has going for him, believing Trump is living proof that a "successful politician" is not what the American people seem to want right now.
Petersen credits himself for being the "architect" of the rise of Judge Andrew Napolitano, on whose Fox Business News show Freedom Watch Petersen was a producer.
Johnson in Weigel's story still clearly believes his experience, both within the L.P. and without it, make him the only sane choice compared to the volatile and controversial McAfee and the relatively untried Petersen. Passing him up might, as Weigel sums up, cost the Party its greatest chance at real political relevance in this most significant of years for political outsiders.
• Marc Ambinder at The Week worries on the Libertarians' behalf that they have already blown it, for a confusing and rambling set of reasons. He starts making uneducated assumptions about alleged billionaires ready to fund the L.P., predictions that, before they even have a candidate, voters are not convinced to "give the party a second look."
He makes an ironically self-reflective point about how "The media has begun to write its cursory stories, which only serves to convince libertarians that the fix is in: As long as you've checked the "we did cover the libertarians, once!" box, you can go back to the click-bait and ratings vehicle that is Donald J. Trump."
Ambinder then assumes, based on nothing other than Johnson's personal and business advocacy for pot, that it is the only issue the party is "organizing seriously" around, with vague declarations that its "fiscal conservative policy planks" are somehow fuzzy or unemphasized, when in fact they are quite clear (below from the L.P. platform, not Ambinder):
All persons are entitled to keep the fruits of their labor. We call for the repeal of the income tax, the abolishment of the Internal Revenue Service and all federal programs and services not required under the U.S. Constitution. We oppose any legal requirements forcing employers to serve as tax collectors. Government should not incur debt, which burdens future generations without their consent. We support the passage of a "Balanced Budget Amendment" to the U.S. Constitution, provided that the budget is balanced exclusively by cutting expenditures, and not by raising taxes.
Tax and spending issues are also by no means ignored by Libertarian candidates in my experience. Not really sure what Ambinder is basing this sort of airy punditry on, but he can be assured most of his audience won't know any better, what with how little the media reports on the L.P. and all.
On that little drug dig, consider how incredibly prescient and ahead of the political curve Libertarians and Johnson himself even as a Republican have been on the drug issue, rather than just mock them for it, and wonder if the out there crazies of the Libertarian Party might have more ahead-of-the-curve ideas to latch on to.
Ambinder then slams the Libertarians for, well, having a set of beliefs that most Americans don't share, kind of the nature of an upstart Party and ideology. "We elect people to give us the stuff we want, whether that's stuff that makes our lives easier or makes life harder for the guys we don't like," Ambinder writes. Yes, but this is America's problem, not the Libertarians.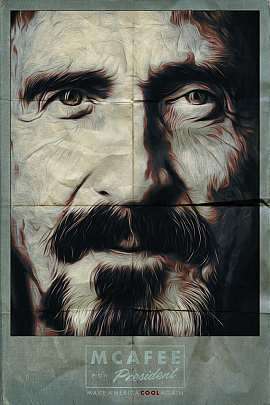 • Nora Kelly at The Atlantic also asks if this is the Libertarian Party's moment. She does a decent roundup of the reasons for and signs of a banner year for the L.P. and of the presidential candidates notes:
If there were a contest for the best campaign slogan this cycle, two of these guys might be contenders. McAfee bills himself as "The Most Interesting Candidate in the World" (sans any mention of Dos Equis), while Petersen's motto stays on message: "Taking Over the Government, to Leave Everyone Alone." (Johnson's slogan is the ho-hum "Be Libertarian With Me.")…
[Johnson] said yes when I asked if he was in the race to win the presidency. McAfee, known for his intense personality, took a harder line on his eventual victory: "I don't have the time to waste on folly."
• The Free Beacon provides a very detailed account of some of the stances of the long L.P. undercard, the candidates not Johnson, Petersen, or McAfee, based on an 11-candidate debate from February in Biloxi, Missouri. A fair amount of sneering in it, but not a bad survey.
• Ed Rogers at the Washington Post damns the rest of the political world with this praise for Gary Johnson: "He's not a nut and he's not manifestly dishonest, and that sets him apart from the field."
• Candidate John McAfee's latest business venture news this week, he:
has been tapped as chief executive of tiny MGT Capital Investments, an investor in fantasy sports and mobile games.

MGT Capital said on Monday it would change its name to John McAfee Global Technologies and that it would buy some assets of McAfee's anti-spy software company, D-Vasive.

Shares of MGT, which had a market value of about $5 million on Friday, soared 85 percent to 66 cents in early trading.
That price rise continued since that news earlier this week, and Insider Financial reports today that:
Shares of MGT Capital Investments Inc (NYSEMKT:MGT) have rocketed higher on a perfectly executed short squeeze. The company was successful in combining news with a paid promo to send the shorts covering and penny stock traders chasing the next microcap runner. Smart investors are asking what's next after shares moved from $.40 to almost $2.
Tweets suggested that Johnson forces were claiming this MGT move was tantamount to dropping out of the presidential race. McAfee tweeted back that "No. My time requirements as chairman are minimal."